DIAMONDS NORTH RESOURCES LTD. : http://www.diamondsnorth.com/ : Amaruk Project
Location:
Nunavut
Est. Size:
4,500,000 Acres
Ownership:
100%
Opportunity:
Multiple kimberlite fields with the potential for hundreds of diamond bearing kimberlites


The 100% owned Amaruk project is a 4.5 million acre property located in the Pelly Bay Region of Nunavut, Canada's newest diamond district. The project is easily accessible from the town of Kugaaruk.

To date, approximately $10 million worth of data has been collected rapidly advancing the project to the drill testing stage. The discovery of multiple kimberlite occurrences, some of which have yielded high diamond counts and favourable stone size distribution and the abundance of indicator minerals with positive diamond inclusion chemistry demonstrate the diamond potential of Amaruk. These results combined with the airborne geophysics will assist Diamonds North in identifying high priority drill targets.
Detailed indicator mineral data across the property defines at least three separate regions with indicator minerals, Diamonds North now controls at least one proven and potentially 2 other separate kimberlite fields within the property (a field is a large tract of land that hosts tens or hundreds of separate kimberlite occurrences).
The proven central kimberlite field is the most advanced and was the focus of the 2005 exploration program. Ground prospecting has resulted in the discovery of at least 15 separate kimberlite float occurrences and one kimberlite in outcrop over a 75 to 80 kilometre distance. To put this in perspective, the Ekati Diamond Mine and Diavik Diamond Mine jointly form a 100 kilometre wide kimberlite field, hosting over 200 kimberlites.
Plans for 2006 include drilling high priority targets in the central kimberlite field, detailed prospecting in areas of indicator mineral clusters and airborne surveying on the two other potential kimberlite fields on the property.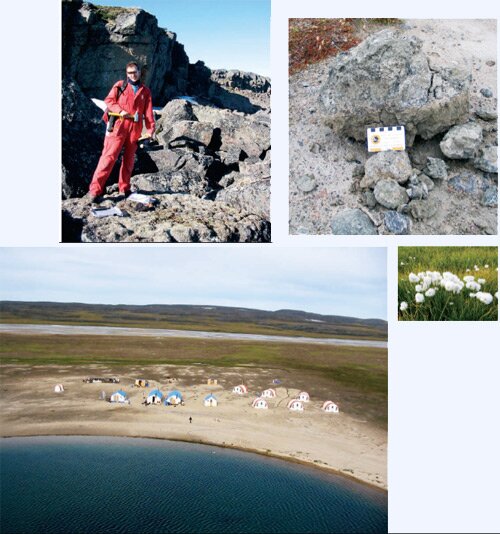 Copyright © 2006 by Diamonds North Resources Ltd. All rights reserved worldwide.
For more information, send questions and comments to
This page was created on Sat Oct 21, 2006 at 3:03:02 PM Pacific Time.