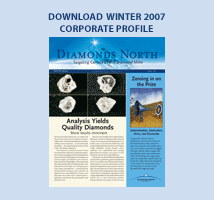 2006 | 2005 | 2004 | 2003 | 2002


 
Fri Dec 20, 2002
Stock Options


---

 
#27-02

VANCOUVER, December 20, 2002 - Diamonds North Resources Ltd. (DDN-TSX Venture) announces the grant of an employee stock option to purchase up to 50,000 common shares at an exercise price of $0.80 for a period of five years.

The grant of this option is subject to TSX Venture Exchange acceptance.

On behalf of Diamonds North Resources Ltd

Mark Kolebaba
President

For further information, please contact:
Corporate Communications: Nancy Curry
Diamonds North Resources Ltd.
Telephone:
Facsimile:
Website: diamondsnorthresources.com
Email:

The TSX Venture Exchange has not reviewed and does not accept responsibility for the adequacy or accuracy of this news release.
 
 

You can view the Previous News Releases 2002 item: Thu Dec 19, 2002, Diamonds North Reports More Diamond Counts From Blue Ice

You can return to the main News Releases 2002 page, or press the Back button on your browser.