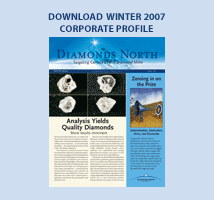 2006 | 2005 | 2004 | 2003 | 2002


 
Tue Nov 19, 2002
More Macrodiamonds from King Eider Kimberlite Pipe, Hadley Bay Project, Victoria Island


---

 
#22-02

Vancouver, November 19, 2002 - Diamonds North Resources Ltd. (DDN-TSX Venture) and Canabrava Diamond Corporation (CNB-TSX Venture) announced today that more macrodiamonds have been recovered from three additional kimberlite samples processed from the King Eider kimberlite pipe, Hadley Bay Project, Victoria Island. The King Eider kimberlite is part of a diamondiferous cluster, which includes the Jaeger, Turnstone, Sanderling and Pintail kimberlites.

Diamond samples CNB01019 and CNB01021 were recovered from -50 degree inclined drill hole HD02-12 that intersected multiple phases of kimberlite in more than 100 metres of core. Sample CNB01015 was recovered from -50 degree inclined drill hole HB02-13, which was drilled at 180 degrees to drill hole HB02-12. The core was separated into six sub-samples representing each of these kimberlite phases. The results from the current three samples are listed in Table 1(the first three samples were reported in News Release 19-02, October 22, 2002).

Table 1.
Diamond Results King Eider Kimberlite


Sample
Number
Depth Down Hole
(metres)
Weight
(kilograms)
Diamonds Recovered
 
+0.5 mm
+1.0 mm
Total
1 Axis
2 Axes
1 Axis
2 Axes
CNB01015
6.05 - 24.4
40.3
5
1
0
0
0
CNB01019
50 - 79.26
95.4
12
3
2
1
0
CNB01021
106.06 - 125.46
60.7
9
0
0
0
0



Macrodiamonds are present in two samples, with the largest stone recovered from sample CNB01019. This stone has three dimensions exceeding 0.5 millimetre: 1.14x0.68x0.69 millimetres. The detailed diamond recoveries in the individual square mesh screen categories are listed in Table 2.

Table 2.
Diamond Results King Eider Kimberlite Square Mesh


Square Mesh
Sieve Size
Number of Diamonds Recovered
CNB01015 (40.3 kg)
CNB01019 (95.4 kg)
CNB01021 (60.7 kg)
+0.600 mm
0
1
0
+0.425 mm
0
1
0
+0.300 mm
1
1
0
+0.212 mm
1
1
0
+0.150 mm
3
7
3
+0.100 mm
0
1
6
Total Stones
5
12
9



Canabrava President George Read states, "The size and abundance of macrodiamonds in King Eider encourage us to conduct further evaluation of this kimberlite."

The King Eider kimberlite pipe was originally located using airborne geophysics and a recent detailed ground geophysical survey, carried out prior to drilling, has shown that King Eider is a large complex kimberlite. The magnetic anomaly measures 200 by 300 metres. The detailed geophysical survey, the core logging and diamond analysis indicate that King Eider is composed of multiple diamondiferous kimberlite phases.

Mark Kolebaba, President of Diamonds North states, "The nature of the diamond size distribution is encouraging, as it demonstrates the presence of larger stones and indicates the pipe is under-sampled"

In light of the demonstrated potential for eclogitic diamonds in the Victoria Island kimberlites the sample sizes were maximized and virtually all core has been submitted for diamond processing. Representative samples of each lithological type have been retained for petrography and indicator mineral recovery.

Samples CNB01025 (41.3 kilograms, Pluto kimberlite), CNB01032 (98.6 kilograms, Apollo kimberlite) and CNB01064 (18.3 kilograms, Diana kimberlite) did not contain microdiamonds. Results are pending from additional samples of the Apollo and Diana kimberlites.

Kimberlite drill core was logged and sampled in secure facilities in the field camp. Sample bags were placed in solid, sealed containers and shipped by air to SGS Lakefield Research in Ontario. SGS Lakefield's standard caustic fusion diamond recovery method was used for all samples. SGS Lakefield is accredited by the Standards Council of Canada to the ISO/IEC Guide 25 Standard for specific registered tests.

Canabrava has the option to earn a 50 percent interest in Diamonds North's Hadley Bay Diamond Project by spending $5 million and issuing 250,000 shares to Diamonds North over a four-year period. Diamonds North is the Project operator.

Diamonds North Resources Ltd. is a diamond exploration company with eight projects covering over one million acres of land in Canada's Nunavut and Northwest Territories. Six projects are located on Victoria Island; one project is adjacent to the De Beers/Mountain Province Kennady Lake advanced stage discovery and one project is near the Drybones kimberlite in the Northwest Territories.

Canabrava Diamond Corporation is actively exploring for diamonds in Canada and Brazil both independently and through major joint ventures with Diamonds North Resources Ltd., Kennecott Canada Exploration Inc., Majescor Resources inc., Navigator Exploration Corp., and Paramount Ventures and Finance Inc. The Company is 36.2 percent owned by Southwestern Resources Corp.




For more information, please contact:
For more information, please contact:
George H. Read, President & CEO
Mark Kolebaba, President
Thomas W. Beattie, V.P. Corporate Development
Nancy Curry, Manager, Corp. Communications
Canabrava Diamond Corporation
Diamonds North Resources Ltd.
Tel. Fax
Tel. Fax
www.canabrava.com
diamondsnorthresources.com



The TSX Venture Exchange has not reviewed and does not accept responsibility for the adequacy or accuracy of this news release.
 
 

You can view the Next News Releases 2002 item: Wed Nov 20, 2002, Diamonds North Announces Additional Diamonds Reported In Latest Blue Ice Results

You can view the Previous News Releases 2002 item: Wed Nov 6, 2002, Diamonds North Private Placement

You can return to the main News Releases 2002 page, or press the Back button on your browser.