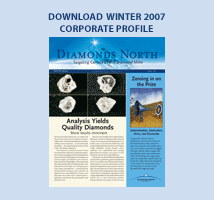 2006 | 2005 | 2004 | 2003 | 2002


 
Wed Nov 6, 2002
Diamonds North Private Placement


---

 
#02-21

VANCOUVER, November 6, 2002 -- Diamonds North Resources Ltd. (DDN-TSX Venture) announces that the Company has negotiated a brokered private placement with a syndicate led by Dundee Securities Corporation (the "Agent") and including Haywood Securities Inc. to raise up to $2,502,500.

The private placement will comprise up to 3,575,000 Flow-Through Units at a price of 70 cents per Unit. Each Unit will consist of one (1) Flow-Through Common Share and one-half (1/2) of a non-transferable Common Share Purchase Warrant. Each whole Common Share Purchase Warrant will entitle the holder to purchase one (1) Common Share at a price of $0.80 per Common Share for a period of twelve months after the Closing Date. No flow-through benefits will be attached to any Common Shares issued upon the exercise of the Common Share Purchase Warrants.

The Agents will be paid a cash fee equal to 7.5% of the gross proceeds raised in the Offering. The Agents will also receive broker warrants (the "Broker Warrants") entitling them to purchase that number of Common Shares which is equal to 10% of the number of Units sold. The Broker Warrants will expire twelve months after the Closing Date. The exercise price for the Broker Warrants will be $0.70 per Common Share.

The Flow-Through shares, the Warrant shares and the Agent's Warrants will be subject to a hold period of four months plus one day from the Closing Date which will be on or about November 28th, 2002.

The gross proceeds of the Units shall be used for the development of the Company's projects in Canada. Diamonds North Resources Ltd. is a diamond exploration company with eight projects covering over 1 million acres of land in Canada's Nunavut and Northwest Territories. Six projects are located on Victoria Island; one project is adjacent to the De Beers/Mountain Province Kennady Lake advanced stage discovery and one project near the Drybones kimberlite in the Northwest Territories.

Diamonds North also announces the completion of the non-brokered private placement announced October 15th, 2002. The 111,000 Units were distributed October 30th, 2002 and are subject to a hold period and may not be traded until March 1st, 2003.

On behalf of Diamonds North Resources Ltd


Maynard Brown
Director

For further information, please contact:
Corporate Communications: Nancy CurryDiamonds
North Resources Ltd.
Telephone:
Facsimile:
Website: diamondsnorthresources.com
Email:

The TSX Venture Exchange has not reviewed and does not accept responsibility for the adequacy of this news release
 
 

You can view the Next News Releases 2002 item: Tue Nov 19, 2002, More Macrodiamonds from King Eider Kimberlite Pipe, Hadley Bay Project, Victoria Island

You can view the Previous News Releases 2002 item: Wed Oct 23, 2002, Diamonds North/Majescor Victoria Island Survey Reveals New Kimberlite-Type Anomalies

You can return to the main News Releases 2002 page, or press the Back button on your browser.