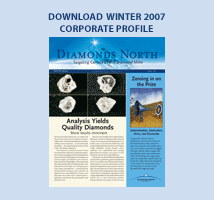 2006 | 2005 | 2004 | 2003 | 2002


 
Wed Oct 23, 2002
Diamonds North/Majescor Victoria Island Survey Reveals New Kimberlite-Type Anomalies


---

 
#02-20

VANCOUVER, October 23 -- Diamonds North Resources Ltd. (DDN-TSX Venture) and Majescor Resources Inc. (MAJ-TSX Venture) announce today the completion of helicopter-borne magnetic surveying on the Wellington Project, Victoria Island.

The first stage of the three-year program focused on detailed, helicopter-borne magnetic surveying over sixteen isolated target anomalies by flying approximately 220 line kilometres at 75-metre line spacing. In addition, two separate blocks, one of 330 line kilometres and one of 515 line kilometres, were flown at 125-metre line spacing. These two blocks cover the southeast extension of the Galaxy trend. The Galaxy structure on Diamonds North's Blue Ice Project, Nunavut has recently yielded many kimberlites, of which one appears highly diamondiferous.

Several significant new magnetic anomalies, consistent with kimberlitic signatures, were identified from preliminary data. Upon completion of a full interpretation of the final data, anomalies of merit will be upgraded to drill target status and will be drilled in the 2003 exploration program.

Diamonds North, the project operator, has granted Majescor an option to earn 50 percent interest in the Wellington Project by spending $2,250,000 by December 31, 2005. The Wellington Project is located on Victoria Island, Nunavut, immediately east of Diamonds North wholly owned Blue Ice Project and south of the Hadley Bay Project, and is known to contain one kimberlite. Eleven new kimberlites were discovered in the 2002 exploration program, 6 along the Galaxy Structure on the Blue Ice Project and 5 on the Hadley Bay Project.

Diamonds North holds more than one million acres in Canada's far north and is active in eight prospects with six projects on Victoria Island; one adjacent to the De Beers/Mountain Province advanced Kennady Lake discovery; and a project near the Drybones kimberlite in Northwest Territories.

Majescor is an exploration company with the largest diamond portfolio of properties in Quebec.

On behalf of the Board of Diamonds North Resources Ltd. and Majescor Resources Inc.



"Mark R. Kolebaba"
Mark R. Kolebaba
President
DIAMONDS NORTH RESOURCES LTD.

"Jacques Letendre"
Jacques Letendre
President
MAJESCOR RESOURCES INC.


For further information, please contact:
Corporate Communications: Nancy CurryDiamonds
North Resources Ltd.
Telephone:
Facsimile:
Website: diamondsnorthresources.com
Email:

The TSX Venture Exchange has not reviewed and does not accept responsibility for the adequacy of this news release
 
 

You can view the Next News Releases 2002 item: Wed Nov 6, 2002, Diamonds North Private Placement

You can view the Previous News Releases 2002 item: Tue Oct 22, 2002, Diamonds North And Canabrava Recover Macrodiamonds On Hadley Bay Project, Victoria Island

You can return to the main News Releases 2002 page, or press the Back button on your browser.