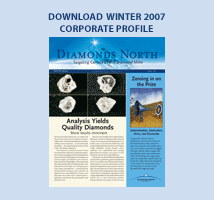 2006 | 2005 | 2004 | 2003 | 2002


 
Thu Oct 17, 2002
Diamonds North's Victoria Island Kimberlite Count Reaches Twenty-Seven


---

 
Vancouver, October 17, 2002 (DDN -- TSX Venture) - Diamonds North Resources Ltd. reports that its 2002 Victoria Island exploration program has resulted in the discovery of eleven new kimberlites. Six new kimberlite bodies were discovered on the wholly owned Blue Ice Project and five new kimberlite bodies on the Hadley Bay Project. This brings the total of known kimberlites to twenty-seven.

The 2002 Victoria Island exploration program was designed to discover and recover samples of kimberlite to assess the diamond potential of each kimberlite. To increase the company's rate of success, high priority geophysical anomalies with high interest mineral chemistry were targeted for drilling. Also, four previously discovered kimberlites were retested on the basis that the mineral chemistry indicated higher diamond potential than first reported.

Blue Ice Project

The Blue Ice Project is wholly owned and operated by Diamonds North. Six new kimberlite bodies were discovered in the 2002 exploration program; Virgo, Vega, Sculptor, Pegasus, Zeta and Carina. Additional testing was also done on the Sand Piper and Snow Bunting kimberlites. A total of 217 kg of kimberlite was sampled by splitting drill core plus an additional 750 kg of kimberlite was collected from sub crop from three separate discrete kimberlites. The company has identified the Galaxy Structure, a twenty kilometre structure with semi continuous kimberlite on the Blue Ice property. To date the Company has only tested the Nunavut portion of the Galaxy Structure and plans to test the Northwest Territories portion in 2003. The following table details the kimberlite, location, sample type collected and the status of diamond analysis

Hadley Bay Project

Diamonds North, owner and operator has granted Canabrava Diamond Corporation an option to earn 50% of the project by spending $5 million on exploration over a four year period. Five new kimberlite bodies were discovered during the 2002 exploration drill program. A new cluster, named the Apollo cluster, includes the Apollo, Neptune, Diana and Pluto kimberlites. The fifth kimberlite discovered is named Juno; it is located near the King Eider kimberlite. The King Eider kimberlite pipe was retested and three new phases of kimberlite were encountered in two drill holes. In addition to drilling, a 20 kg sample of sub crop exposure was taken from the Turnstone kimberlite. A total of 1000 kg of drill core from the Hadley Bay Project has been sent to SGS Lakefield for analysis; results are expected periodically until the end of the year.

Victoria Island is Canada's second largest island, and, at 217,290 square kilometres, the world's ninth largest. Victoria Island lies north of the Arctic mainland and is part of both Nunavut and the Northwest Territories. It is underlain largely by Archean craton overlain by sedimentary rock, with complex glacial landforms.

Diamonds North Resources Ltd. is a diamond exploration company with eight projects covering over one million acres of land in Canada's Nunavut and Northwest Territories. Six projects are located on Victoria Island; one project is adjacent to the De Beers/Mountain Province Kennady Lake advanced stage discovery and one project is near the Drybones kimberlite in the Northwest Territories.


Bernard H Kahlert
Vice President Exploration


For further information please contact: Nancy Curry, Manager Corporate CommunicationsDiamonds North Resources Ltd.Telephone: Facsimile: Website: diamondsnorthresources.comEmail:


The TSX Venture Exchange has not reviewed and does not accept
responsibility for the adequacy of this news release
 
 

You can view the Next News Releases 2002 item: Tue Oct 22, 2002, Diamonds North And Canabrava Recover Macrodiamonds On Hadley Bay Project, Victoria Island

You can view the Previous News Releases 2002 item: Tue Oct 15, 2002, Private Placement

You can return to the main News Releases 2002 page, or press the Back button on your browser.