Feb 15, 2007 : New Diamond Discoveries on Amaruk more...

Jan 10, 2007 : Diamonds North and Majescor Identify High Priority Drill Targets on Ba... more...

Jan 08, 2007 : Amaruk Project Update Diamond Results Pending for Five Kimberlites - P... more...

Dec 04, 2006 : Uranium North Set To Close Financing And Commence To Trade more...

Nov 16, 2006 : Diamonds North Announces Closing of $7 Million Private Placement more...

Oct 26, 2006 : $6 Million "Bought Deal" Financing more...

Oct 12, 2006 : Diamonds North and Arctic Star to Explore in Canada's Newest Kimberlit... more...

Oct 05, 2006 : 19 New Kimberlite Float Occurrences on Amaruk Further Demonstrates the... more...

Sep 27, 2006 : Drill Targets Identified on the Ualliq property more...

Sep 20, 2006 : Diamonds North Increases Kimberlite Tally to Five Demonstrating Amaruk... more...

Aug 23, 2006 : Target Testing Underway at Amaruk -- New Kimberlite Discovered more...

Aug 15, 2006 : Shear Minerals and Diamonds North to Explore the Sakari property more...

Aug 02, 2006 : Diamonds North and International Samuel to Explore the Ualliq property more...

Aug 01, 2006 : Diamonds North Closes Plan of Arrangement for Shareholders to Receive ... more...

Jul 19, 2006 : Diamonds North sets Effective Date for Shareholders to Receive Uranium... more...

Jul 17, 2006 : Pathfinder Starts Major Airborne Geophysical Survey at Thelon Basin Ur... more...

Jul 14, 2006 : Diamonds North Grants Options more...

Jul 13, 2006 : Diamonds North To Drill The Amaruk Project more...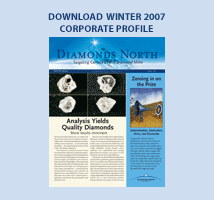 2006 | 2005 | 2004 | 2003 | 2002


 
Tue May 13, 2003
Mobilization Underway For 2003 Victoria Island Program


---

 
#03-17

Vancouver, BC -- Diamonds North Resources Ltd. (DDN -- TSX Venture) announces that mobilization for the Victoria Island Projects is almost complete with the drill programs slated to begin within the next few weeks. Diamonds North also releases an update on the drill programs completed on the Misty Lake Project and the GTEN claims.

Victoria Island

A 20 person camp is being established for the 4 month exploration program. Camp, fuel, a diamond drill rig and all ancillary equipment for a 4500 metre diamond drill program has been mobilized by Hercules aircraft using a temporary landing strip built on 7 to 8 feet of ice on a lake central to the projects. (Visit our website to see photos of this operation). From this central site, a cat train is distributing the required supplies to several sites on the various projects

All required permits for the seven Victoria Island projects are in place and it is expected that field crews will arrive by the third or fourth week of May to commence operations. Exploration plans will be released shortly for the Blue Ice, Wellington, Holman and Hadley Bay Projects.


Misty Lake

Diamonds North Resources Ltd. and SouthernEra Resources Ltd. have completed drilling five geophysical targets on the Misty claims, Northwest Territories. No kimberlite was intersected. A number of untested targets remain including two new magnetic anomalies presently being surveyed with ground geophysics. The Misty Lake Project comprises 71,000 acres of land located adjacent to the southwest border of the De Beers/Mountain Province Diamonds' Kennady Lake project, where $3 billion in diamonds have been outlined in pre-feasibility studies.

GTEN

Diamonds North Resources Ltd. and Snowfield Development Corporation have completed a nine drill hole program on the GTEN claims, located 40 km southeast of Yellowknife, Northwest Territories. No kimberlite was intersected. The drill program was designed to determine the source of kimberlite indicator minerals down ice of the claims. Further detailed sampling and geophysical work is planned for this summer to attempt to identify the kimberlite indicator mineral source.

Diamonds North believes the Misty Lake and GTEN projects offer good potential for diamondiferous kimberlite and will continue exploration on these projects.


Diamonds North Resources Ltd. is committed to discovering an economic diamond deposit in Canada. The company is involved in ten projects covering over 1.5 million acres of land in Canada's Nunavut and Northwest Territories. Seven projects are located on Victoria Island with Diamonds North as the operator; two projects are adjacent to the De Beers /Mountain Province Kennady Lake advanced stage discovery and one project is near the Drybones kimberlite in the Northwest Territories. Diamonds North is also committed to increasing shareholder value by combining a proven business model, experienced management and a strong technical team while working closely with local governments and communities.



Mark R. Kolebaba
President


For further information, please contact:
Corporate Communications: Nancy Curry
Diamonds North Resources Ltd.
Telephone:
Facsimile:
Website: diamondsnorthresources.com
Email:



The TSX Venture Exchange has not reviewed and does not accept responsibility for the adequacy of this news release
 
 

You can view the Next News Releases 2003 item: Tue May 27, 2003, Diamonds North & Majescor Initiate Wellington Drill Program

You can view the Previous News Releases 2003 item: Mon May 5, 2003, Kidme Claims Awarded To Diamonds North and SouthernEra

You can return to the main News Releases 2003 page, or press the Back button on your browser.