Feb 15, 2007 : New Diamond Discoveries on Amaruk more...

Jan 10, 2007 : Diamonds North and Majescor Identify High Priority Drill Targets on Ba... more...

Jan 08, 2007 : Amaruk Project Update Diamond Results Pending for Five Kimberlites - P... more...

Dec 04, 2006 : Uranium North Set To Close Financing And Commence To Trade more...

Nov 16, 2006 : Diamonds North Announces Closing of $7 Million Private Placement more...

Oct 26, 2006 : $6 Million "Bought Deal" Financing more...

Oct 12, 2006 : Diamonds North and Arctic Star to Explore in Canada's Newest Kimberlit... more...

Oct 05, 2006 : 19 New Kimberlite Float Occurrences on Amaruk Further Demonstrates the... more...

Sep 27, 2006 : Drill Targets Identified on the Ualliq property more...

Sep 20, 2006 : Diamonds North Increases Kimberlite Tally to Five Demonstrating Amaruk... more...

Aug 23, 2006 : Target Testing Underway at Amaruk -- New Kimberlite Discovered more...

Aug 15, 2006 : Shear Minerals and Diamonds North to Explore the Sakari property more...

Aug 02, 2006 : Diamonds North and International Samuel to Explore the Ualliq property more...

Aug 01, 2006 : Diamonds North Closes Plan of Arrangement for Shareholders to Receive ... more...

Jul 19, 2006 : Diamonds North sets Effective Date for Shareholders to Receive Uranium... more...

Jul 17, 2006 : Pathfinder Starts Major Airborne Geophysical Survey at Thelon Basin Ur... more...

Jul 14, 2006 : Diamonds North Grants Options more...

Jul 13, 2006 : Diamonds North To Drill The Amaruk Project more...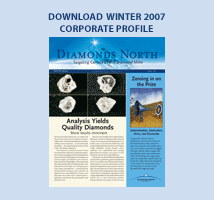 2006 | 2005 | 2004 | 2003 | 2002


 
Thu Apr 17, 2003
Diamonds North Expands Exploration Team Adding Bruce Kienlen


---

 
#03-15

Vancouver, BC - Diamonds North Resources Ltd. (DDN - TSX Venture) is financed for an extensive exploration season in 2003. Over the next few weeks Diamonds North will announce exploration plans, budgets and project information for the Gten, Misty Lake, Blue Ice, Hadley Bay, Wellington, Holman and Stefansson projects. An experienced, competent and well-rounded exploration team has been assembled to carry out the aggressive program on all ten diamond projects.

Diamonds North announces today that Bruce Kienlen, B.Sc., P.Geol I.T. has joined the exploration team of Diamonds North. Mr. Kienlen will be involved in all technical aspects of Diamonds North's projects.

Before joining Diamonds North Bruce spent seven years with BHP Billiton Diamonds Inc. where he gained his diamond exploration experience in Canada and internationally including Nunavut, Northwest Territories, Quebec, Manitoba, Sweden, Middle East and Brazil. Bruce's strong technical knowledge of kimberlite indicator mineral chemistry will assist in the assessment of regional terrains and kimberlite target evaluation. Bruce has extensive experience in northern terrains particularly dealing with the distribution of kimberlite indicator minerals in glacial environments. He has designed and managed both small and large exploration projects with budgets between $60,000 and $3 million.



"Bruce joining our exploration team is good news for Diamonds North; he will add value and compliment what I believe to be one of the strongest technical groups amongst the junior diamond explorers", said Diamonds North's President, Mark Kolebaba.




Bruce is now a member of an impressive geological team led by Diamonds North's President, Mark Kolebaba and consisting of Bernard Kahlert, Vice President of Exploration, Graham Gill, Exploration Manager and David Kelsch, Victoria Island Project Manager.

Mark Kolebaba joined Diamonds North Resources as President in April 2002. In 1993, Mark worked for BHP at the BHP & Dia Met Joint Venture in Lac de Gras, which later became Ekati, Canada's first diamond mine. Mark worked for notable diamond explorers Rory Moore, Charles Fipke and the late Hugo Dummet at Ekati; his experience ranges from early exploration through to the feasibility study for the Panda & Koala pipes. In 1997, Mark became more involved in regional diamond exploration in Canada. Subsequently he joined a global search team charged with growing the diamond business for BHPB world wide.

Another key member of the exploration team is the Vice President of Exploration, Mr. Bernard Kahlert, B.Sc. P.Eng. During the last decade Bernard played a major role in assembling the Victoria Island land portfolio. His persistence contributed significantly to the success of Victoria Island 2002 exploration program. Bernard's prior diamond exploration exposure in Australia and his three decades of mineral exploration experience has been critical in attracting joint venture partners and funding for the Victoria Island and Northwest Territories diamonds exploration projects.


Mr. Graham Gill, P.Geol, has been promoted to Exploration Manager for the company. Graham has many years of experience in mineral exploration exploring for several commodities including diamonds throughout Canada and Africa. He previously explored for Cominco Ltd., Noranda Exploration Company Ltd. and Hemlo Gold Mines Inc. before joining Commander Resources (formerly Major General Resources Ltd.) in 1997. In addition to managing the technical aspects of the projects, Graham is instrumental in managing permits and local environmental, community and government issues.

The company is very pleased that Mr. David Kelsch continues as the Victoria Island Project Manager. David brings to Diamonds North ten years of experience in diamonds, six of which were with Rio Tinto as a senior geologist on the Lac de Gras exploration programs. David's experience at Diavik and on other diamond projects proved instrumental in the company's successful 2002 Victoria Island exploration program.

Diamonds North Resources Ltd. is committed to discovering an economic diamond deposit in Canada. The company is involved in ten projects covering over 1.5 million acres of land in Canada's Nunavut and Northwest Territories. Seven projects are located on Victoria Island with Diamonds North as the operator; two projects are adjacent to the De Beers /Mountain Province Kennady Lake advanced stage discovery and one project is near the Drybones kimberlite in the Northwest Territories. Diamonds North is also committed to increasing shareholder value by combining a proven business model, experienced management and a strong technical team while working closely with local governments and communities.


For further information, please contact:
Corporate Communications: Nancy Curry
Diamonds North Resources Ltd.
Telephone:
Facsimile:
Website: diamondsnorthresources.com
Email:



The TSX Venture Exchange has not reviewed and does not accept responsibility for the adequacy of this news release
 
 

You can view the Next News Releases 2003 item: Mon May 5, 2003, Kidme Claims Awarded To Diamonds North and SouthernEra

You can view the Previous News Releases 2003 item: Thu Apr 10, 2003, Diamonds North And SouthernEra Start Drilling On Misty Lake

You can return to the main News Releases 2003 page, or press the Back button on your browser.