Feb 15, 2007 : New Diamond Discoveries on Amaruk more...

Jan 10, 2007 : Diamonds North and Majescor Identify High Priority Drill Targets on Ba... more...

Jan 08, 2007 : Amaruk Project Update Diamond Results Pending for Five Kimberlites - P... more...

Dec 04, 2006 : Uranium North Set To Close Financing And Commence To Trade more...

Nov 16, 2006 : Diamonds North Announces Closing of $7 Million Private Placement more...

Oct 26, 2006 : $6 Million "Bought Deal" Financing more...

Oct 12, 2006 : Diamonds North and Arctic Star to Explore in Canada's Newest Kimberlit... more...

Oct 05, 2006 : 19 New Kimberlite Float Occurrences on Amaruk Further Demonstrates the... more...

Sep 27, 2006 : Drill Targets Identified on the Ualliq property more...

Sep 20, 2006 : Diamonds North Increases Kimberlite Tally to Five Demonstrating Amaruk... more...

Aug 23, 2006 : Target Testing Underway at Amaruk -- New Kimberlite Discovered more...

Aug 15, 2006 : Shear Minerals and Diamonds North to Explore the Sakari property more...

Aug 02, 2006 : Diamonds North and International Samuel to Explore the Ualliq property more...

Aug 01, 2006 : Diamonds North Closes Plan of Arrangement for Shareholders to Receive ... more...

Jul 19, 2006 : Diamonds North sets Effective Date for Shareholders to Receive Uranium... more...

Jul 17, 2006 : Pathfinder Starts Major Airborne Geophysical Survey at Thelon Basin Ur... more...

Jul 14, 2006 : Diamonds North Grants Options more...

Jul 13, 2006 : Diamonds North To Drill The Amaruk Project more...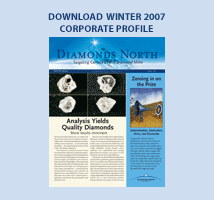 2006 | 2005 | 2004 | 2003 | 2002


 
Thu Aug 21, 2003
Snow Goose Kimberlite - More Than One Hectare in Size


---

 
#03-29

VANCOUVER, August 21, 2003 -- Diamonds North Resources Ltd. (DDN-TSX Venture) and Teck Cominco Limited have completed two drill holes into the Snow Goose Kimberlite on the Blue Ice Project, Victoria Island. Drill intersections indicate that the pipe contains high level emplacement lithologies (diatreme or crater) and based on drill and geophysical information is over one hectare in size at a depth of 80 metres. Both holes were drilled from the center of the Snow Goose geophysical anomaly along a NE-SW section in opposing directions at a -60o angle. A total of 181 metres of kimberlite was drilled and collected from the NTW size drill core.

Two main kimberlite lithologies are present in both drill holes: a predominant magmaclastic kimberlite breccia (diatreme or crater) and minor hypabyssal kimberlite. Both lithologies contain coarse olivine macrocrysts and other visible mantle-derived material.

The occurrence of magmaclastic kimberlite is very significant as it indicates that the upper portions of the kimberlite pipes are preserved on Victoria Island. This kimberlite breccia contains juvenile lapilli, preserved wood and mudstone fragments. Thin section analysis will be required to determine if it represents a crater or a diatreme kimberlite.

The Snow Goose kimberlite pipe, which lies along the twenty kilometre diamondiferous Galaxy Structure, demonstrates that large kimberlite bodies are present on the Blue Ice Project. The diameter of the Snow Goose kimberlite is 114 metres with magmaclastic kimberlite forming a 95 metre wide central core flanked by hypabyssal kimberlite phases along the margins.

Diamonds North has been focused on testing the Snow Goose kimberlite since the formation of the company in 2002 due to a 151 kilograms kimberlite sample obtained in 1999 that yielded 55 diamonds, three of which are macrodiamonds. The 55 stone parcel weighs 0.262 carats (1.74 ct/tonne normalized). Diamonds North has requested the diamond sieve data for the sample from the previous operator to allow for standard reporting and comparison. This data, however, indicates a strong presence of large stones.

A third drill hole is planned for Snow Goose kimberlite in 2003. Drilling across the SE side of the kimberlite will provide information on the internal composition of the pipe and confirm lateral extent.

In addition, a new kimberlite occurrence was discovered during prospecting activities along the Nunavut portion of the Galaxy Structure. Several kimberlite fragments overlying a weak magnetic anomaly were recovered. Hand pitting will be undertaken to obtain a larger sample for microdiamond analysis.

Diamonds North and Teck Cominco are currently conducting a helicopter-borne magnetic survey over parts of the Blue Ice property that have not yet been flown with detailed geophysics (approximately 75% of the property). The objective of the survey is to identify new kimberlite targets for drilling.


The drill core is being logged in detail by an experienced and qualified kimberlite geologist. Kimberlite is logged and split in secure facilities at the field camp. Sample bags are sealed in solid containers and submitted to SGS Lakefield Research in Ontario. SGS Lakefield's standard caustic fusion diamond recovery method will be utilized for all samples. SGS Lakefield is accredited by the Standards Council of Canada to the ISO/IEC Guide 25 standard for specific registered tests.

On behalf of Diamonds North Resources Ltd.




Mark Kolebaba
President

For further information, please contact:
Corporate Communications:
Nancy Curry
Diamonds North Resources Ltd.
Telephone:
Facsimile:
Website: diamondsnorthresources.com
Email:


The TSX Venture Exchange has not reviewed and does not accept responsibility for the adequacy of this news release
 
 

You can view the Next News Releases 2003 item: Fri Aug 22, 2003, Private Placement

You can view the Previous News Releases 2003 item: Tue Aug 5, 2003, Non-Brokered Private Placement

You can return to the main News Releases 2003 page, or press the Back button on your browser.