Feb 15, 2007 : New Diamond Discoveries on Amaruk more...

Jan 10, 2007 : Diamonds North and Majescor Identify High Priority Drill Targets on Ba... more...

Jan 08, 2007 : Amaruk Project Update Diamond Results Pending for Five Kimberlites - P... more...

Dec 04, 2006 : Uranium North Set To Close Financing And Commence To Trade more...

Nov 16, 2006 : Diamonds North Announces Closing of $7 Million Private Placement more...

Oct 26, 2006 : $6 Million "Bought Deal" Financing more...

Oct 12, 2006 : Diamonds North and Arctic Star to Explore in Canada's Newest Kimberlit... more...

Oct 05, 2006 : 19 New Kimberlite Float Occurrences on Amaruk Further Demonstrates the... more...

Sep 27, 2006 : Drill Targets Identified on the Ualliq property more...

Sep 20, 2006 : Diamonds North Increases Kimberlite Tally to Five Demonstrating Amaruk... more...

Aug 23, 2006 : Target Testing Underway at Amaruk -- New Kimberlite Discovered more...

Aug 15, 2006 : Shear Minerals and Diamonds North to Explore the Sakari property more...

Aug 02, 2006 : Diamonds North and International Samuel to Explore the Ualliq property more...

Aug 01, 2006 : Diamonds North Closes Plan of Arrangement for Shareholders to Receive ... more...

Jul 19, 2006 : Diamonds North sets Effective Date for Shareholders to Receive Uranium... more...

Jul 17, 2006 : Pathfinder Starts Major Airborne Geophysical Survey at Thelon Basin Ur... more...

Jul 14, 2006 : Diamonds North Grants Options more...

Jul 13, 2006 : Diamonds North To Drill The Amaruk Project more...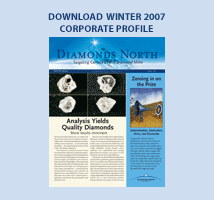 2006 | 2005 | 2004 | 2003 | 2002


 
Fri Sep 5, 2003
King Eider Kimberlite Structure Increases To 25 Kilometres With New Kimberlite Discovery


---

 
#03-32

VANCOUVER, September 5, 2003 -- Diamonds North Resources Ltd. announces that recent fieldwork along the King Eider kimberlite structure, on the 100% owned Hadley Bay Project, has extended the trend by 10 kilometres to total know length of 25 kilometres with the discovery of a new kimberlite dyke. In addition, several new pipe and dyke-like anomalies have been identified on this structure.

Helicopter magnetic surveying of the northwestern portion of this structure has identified a large magnetic anomaly measuring 1000 metres by 100 metres and two pipe-like anomalies measuring 150 to 200 metres in diameter. These anomalies are near the known Pintail and Jaeger kimberlites along the structure in this area.

Groundwork will commence immediately to detail the magnetic anomalies in preparation for drill testing before the end of the field season.

Airborne magnetic data collected in 2002 along the southeast extension of the diamondiferous King Eider kimberlite structure identified a 7-8 kilometre dyke-like magnetic anomaly. Prospecting along the magnetic anomaly has resulted in the discovery of two kimberlite exposures in two separate trenches one kilometre apart. Approximately 90 kg of disaggregated kimberlite was collected for diamond and indicator mineral analysis. Prospecting of this trend will continue.

The King Eider kimberlite structure on the Hadley Bay Project is located 20 kilometres north of the Blue Ice Project's Galaxy Structure on Victoria Island.
On behalf of Diamonds North Resources Ltd.


Mark Kolebaba
President


For further information, please contact:
Corporate Communications: Nancy Curry
Diamonds North Resources Ltd.
Telephone:
Facsimile:
Website: diamondsnorthresources.com
Email:

The TSX Venture Exchange has not reviewed and does not accept responsibility for the adequacy of this news release
 
 

You can view the Next News Releases 2003 item: Wed Sep 17, 2003, Over Four Tonnes Of Kimberlite Recovered On Blue Ice, Victoria Island

You can view the Previous News Releases 2003 item: Fri Aug 29, 2003, Summary Report of Second Quarter

You can return to the main News Releases 2003 page, or press the Back button on your browser.