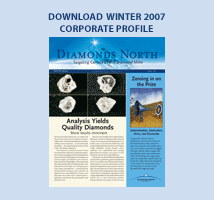 2006 | 2005 | 2004 | 2003 | 2002


 
Wed Mar 24, 2004
Diamonds North Announces Teck Cominco Takes Up Blue Ice Option and Expands Victoria Island Diamond Interests


---

 
Vancouver, March 24, 2004 - Diamonds North Resources Ltd. (DDN-TSX Venture) announces that Teck Cominco Limited has elected, under the June 18, 2003 Participation Agreement, to take up the option to earn an initial 30% interest in the Blue Ice property located on Victoria Island, Nunavut and Northwest Territories, by exercising its 454,545 warrants at a price of $1.10. Teck Cominco in conjunction with Diamonds North is currently developing an exploration program for 2004.

In addition to taking up the option, Teck Cominco and Diamonds North have entered into an agreement (the 2004 Amending Agreement) to allow Teck Cominco to expand the Participation Agreement to include Diamonds North's adjoining White Ice and Hadley Bay properties. Teck Cominco has increased the 2004 exploration program from $2,000,000 to $3,000,000, to be expended on the three properties, and if it elects to include the White Ice and Hadley Bay properties under the Blue Ice Participation Agreement the aggregate expenditures required to earn the initial 30% interest shall be increased from $9,500,000 to $11,500,000.

Mark Kolebaba, President of Diamonds North states "Diamonds North is very pleased that Teck Cominco has initiated the option. They bring to the project proven operational expertise in the arctic and are strongly committed to advanced Canadian diamond exploration."

The consolidation of the three Victoria Island properties maximizes the potential for an economic diamond mine, advances the project more effectively and efficiently and is consistent with the Diamonds North's strategy to explore towards the joint development of the King Eider and Galaxy structures.

The property merger combines diamondiferous kimberlite from the Hadley Bay and Blue Ice properties and increases the number of untested targets. Both kimberlite structures comprise kimberlite pipes, blows and dykes. Diamond results from several localities along the structures have yielded encouraging diamond counts with large stones. The colours of the microdiamond population include a dominance of white (colourless) stones with lesser yellow, pink, brown and grey diamonds recovered locally. Clarity of the diamonds recovered is mainly transparent with minor translucent and opaque stones.

The White Ice claims increase the potential for additional kimberlite discoveries as the claims cover possible northwest extensions of both the Galaxy and King Eider kimberlite structures where kimberlite indicator minerals have been recovered.

Under the 2004 Amending Agreement, Teck Cominco will pay Diamonds North $55,000 up front and, if Teck Cominco elects to include any portions of the White Ice and Hadley Bay properties under the Participation Agreement, an additional $55,000 by December 31, 2004.

Should Teck Cominco elect to include any portions of the White Ice and Hadley Bay properties under the Participation Agreement, the terms of the Participation Agreement shall be amended as follows:

Teck Cominco's expenditure requirements to earn an initial 30% interest in the combined properties shall be:

a) $3,000,000 in expenditures by December 31, 2004;
b) $6,000,000 in expenditures in the aggregate; by December 31, 2005
c) $9,500,000 in expenditures in the aggregate by December 31, 2006; and
d) $11,500,000 in expenditures in the aggregate by August 31, 2007.

The date for Teck Cominco to increase its interest to 50% by expending an additional $5,000,000 ($16,500,000 in aggregate) shall be changed to December 31, 2008

The cash payment due to Diamonds North upon Teck Cominco exercising its one-time right to extend the above dates shall be increased to $300,000.

All other terms of the Participation Agreement as announced by Diamonds North on June 25, 2003 remain the same.

Mr. D. G. Gill, P.Geo. is the Qualified Person as defined by National Instrument 43-101 for Diamonds North Resources Ltd. and was responsible for implementing the 2003 Victoria Island programs and providing quality control on all data.

Diamonds North holds more than seven million acres of prospective land in Canada. The main project areas include Victoria Island, Kidme which is adjacent to De Beers' Gahcho Kué project, and a potential new kimberlite field on the Amaruk property in the eastern arctic. Diamonds North's projects range from early stage target generation to more advanced kimberlite evaluation. Diamonds North explores independently and in joint venture with other diamond exploration companies. Exploration partners include Teck Cominco Limited, SouthernEra Resources Ltd, Majescor Resources Inc. and BHP Billiton Diamonds.

On Behalf of the Board of Directors


Mark Kolebaba
President


For further information, please contact: Corporate Communications: Nancy CurryDiamonds North Resources Ltd.Telephone: Facsimile: Website: diamondsnorthresources.comEmail:

The TSX Venture Exchange has not reviewed and does not accept responsibility for the adequacy of this news release
 
 

You can view the Next News Releases 2004 item: Mon Mar 29, 2004, Diamonds North Recovers Large Diamond From Hadley Bay

You can view the Previous News Releases 2004 item: Wed Mar 17, 2004, Cancellation Of A Grant Of Incentive Stock Options

You can return to the main News Releases 2004 page, or press the Back button on your browser.