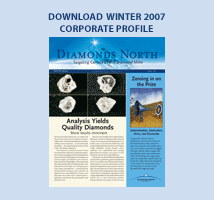 2006 | 2005 | 2004 | 2003 | 2002


 
Mon Apr 5, 2004
Diamonds North's Amaruk Diamond Search Underway


---

 
Vancouver, April 05, 2004 - Diamonds North Resources Ltd. (DDN-TSX Venture) has commenced a detailed airborne geophysical survey over the recently staked 418,000 acre Amaruk property (see News Release Feb.16, 2004). The survey will cover three areas totaling more than 500 square kilometres, which contain high indicator mineral counts. The Company staked the 100% owned Amaruk property, which is located 45 kilometres south of Kugaaruk in eastern Nunavut in late 2003. In early 2004, the claims were surrounded by more than 16 million acres of claims and permits acquired by BHP Billiton Diamonds Inc., Kennecott Exploration Canada Inc., De Beers Canada Exploration Inc. and others during the recent, extensive, land acquisition rush. Subsequent to the staking of Amaruk, Diamonds North and BHP Billiton have entered into a joint venture on more than 3 million acres surrounding the Amaruk property (see News Release Feb.16, 2004).

A total of 5000 line kilometers of detailed helicopter-borne magnetic and electro-magnetic survey will be flown over the property. The objective of the program is to identify potential kimberlite targets over an area in which regional till sampling has indicated four separate possible indicator mineral trains. The initial 2004 airborne survey is being flown over 3 of the 4 possible kimberlite indicator mineral trains.

High kimberlite indicator mineral counts, the abundance of coarse-grained indicator minerals, and the presence of primary surface textures on a high proportion of mineral grains strongly suggest that proximal kimberlite sources exist on the property. Furthermore, sample results define kimberlite indicator mineral dispersion trains that clearly start within the property boundaries.

The till sample from the property that returned more than 1350 kimberlite indicator mineral grains contains more than 1170 coarse grains (greater than 0.5mm). Picking of the 0.5-0.25mm indicator mineral fraction for this sample is underway. Five other till samples collected from the Amaruk property recovered between 14 and 40 kimberlite indicator minerals each, providing the exploration team with further confidence of nearby kimberlite sources. As part of the 2004 exploration program, systematic heavy mineral sampling and ground prospecting will be conducted over the property. The qualified person on the project is B. Kienlen, P. Geol.

To assist in the advancement of the Amaruk property, Diamonds North is pleased to announce that Joan McCorquodale, B.Sc., P.Geo, has joined the exploration team of Diamonds North. Joan will be involved in all aspects of Diamonds North's Amaruk project. Joan brings over fifteen years of mineral exploration experience including five years at Winspear Resources Ltd. as a Project Geologist and she was a member of the Snap Lake kimberlite discovery team. During her time at Winspear, Joan was responsible for the supervision and implementation of a full spectrum of diamond exploration programs. Augmenting her Canadian diamond knowledge, Joan gained first hand experience of Russian diamond exploration techniques working closely with Winspear's Russian diamond exploration experts.

More recently, Joan has explored for various commodities in Bolivia, Brazil, southeast Asia, Australia, and Spain. Joan's latest position was with GoldCorp Inc. where she was responsible for increasing mine resources at the Red Lake Mine. During Joan's career, she has developed strong geological skills and a solid scientific background in mineral exploration. Joan will be a valued member of Diamond North's exploration team.

Diamonds North holds more than seven million acres of prospective land in Canada. The main project areas include Victoria Island, Kidme which is adjacent to De Beers' Gahcho Kué project and a potential new kimberlite field on the Amaruk property in the eastern arctic. Diamonds North's projects range from early stage target generation to more advanced kimberlite evaluation. Diamonds North explores both independently and in joint venture with other diamond exploration companies. Exploration partners include Teck Cominco Limited, SouthernEra Resources Ltd, Majescor Resources Inc. and BHP Billiton Diamonds Inc.


On behalf of Diamonds North Resources Ltd.




Mark Kolebaba,
President




For further information, please contact: Corporate Communications: Nancy CurryDiamonds North Resources Ltd.Telephone: Facsimile: Website: diamondsnorthresources.comEmail:


The TSX Venture Exchange has not reviewed and does not accept responsibility for the adequacy of this news release
 
 

You can view the Next News Releases 2004 item: Mon Apr 26, 2004, Summary of December 31, 2003 Financial Statements

You can view the Previous News Releases 2004 item: Mon Mar 29, 2004, Diamonds North Recovers Large Diamond From Hadley Bay

You can return to the main News Releases 2004 page, or press the Back button on your browser.