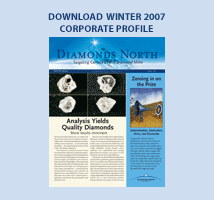 2006 | 2005 | 2004 | 2003 | 2002


 
Mon May 31, 2004
Diamonds North Identifies Prospective Land in Manitoba


---

 
Vancouver, May 31, 2004 - Diamonds North Resources Ltd. (DDN-TSX Venture) announces the acquisition of 900,000 acres in northern Manitoba. The exploration licenses cover an area of the Superior Craton that is prospective for diamonds. This project is part of the Company's Northern Recon Initiative program for 2004.

The Manitoba Highlands project comprises eight mineral exploration licenses in total. Five of these licenses were granted directly to Diamonds North through the license application process and a 100% interest in three additional licenses were acquired from a Manitoba based private company, Indicator Explorations Ltd. Under the terms of the agreement, Indicator Explorations receives a cash payment of $10,000 and, subject to regulatory approval, will be issued 20,000 common shares. In addition, Indicator Explorations will receive cash payments totaling $530,000, staged over a four year period assuming Diamonds North continues with the project. The annual payments are as follows: 2005 - $40,000, 2006 - $80,000, 2007 -- $160,000, and 2008 -- $250,000. A 1% royalty on any production from the property will be payable to Indicator Explorations.

Diamonds North plans an comprehensive indicator mineral sampling program in 2004.

Diamonds North is a dynamic successful exploration team focused on strategically advancing diamond opportunities and is determined to discover Canada's next diamond mine.


On behalf of Diamonds North Resources Ltd.


Mark Kolebaba,
President


For further information, please contact:
Corporate Communications:
Nancy Curry
Diamonds North Resources Ltd.
Telephone:
Facsimile:
Website: https://diamondsnorthresources.com
Email: mailto:


The TSX Venture Exchange has not reviewed and does not accept responsibility for the adequacy of this news release
 
 

You can view the Next News Releases 2004 item: Wed Jun 9, 2004, Diamonds North Arranges Private Placement

You can view the Previous News Releases 2004 item: Fri May 28, 2004, Summary of March 31, 2004 Interim Financial Statements

You can return to the main News Releases 2004 page, or press the Back button on your browser.