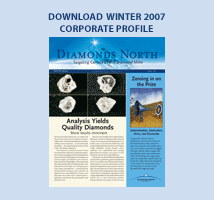 2006 | 2005 | 2004 | 2003 | 2002


 
Wed Jun 9, 2004
Diamonds North Arranges Private Placement


---

 
VANCOUVER, June 9, 2004 -- Diamonds North Resources Ltd. (DDN-TSX Venture) announces that the Company has arranged a brokered private placement with a syndicate led by Canaccord Capital Corporation (the "Agent") to raise up to $3,000,000.

The private placement will comprise up to 2,400,000 flow-through shares at a price of $1.25 per flow-through share.

The Agent will be paid a cash fee equal to 6% of the gross proceeds raised in the offering. The Agent will also receive agent warrants entitling them to purchase that number of non flow-through common shares which is equal to 7% of the number of flow-through shares sold. The agent warrants will expire twelve months after the closing date. The exercise price for the agent warrants will be $1.35 per common share.

The flow-through shares and the agent warrants will be subject to a hold period of four months plus one day from the closing date.

The gross proceeds from the sale of the flow-through shares shall be used for diamond exploration on the Company's projects in Canada.

Diamonds North is a dynamic successful exploration team focused on strategically advancing diamond opportunities and is determined to discover Canada's next diamond mine.

On behalf of Diamonds North Resources Ltd.


Mark Kolebaba,
President

For further information, please contact:

Corporate Communications: Nancy Curry
Diamonds North Resources Ltd.
Telephone:
Facsimile:
Website: diamondsnorthresources.com
Email:



The TSX Venture Exchange has not reviewed and does not accept responsibility for the adequacy of this news release
 
 

You can view the Next News Releases 2004 item: Thu Jun 17, 2004, Private Placement Closed

You can view the Previous News Releases 2004 item: Mon May 31, 2004, Diamonds North Identifies Prospective Land in Manitoba

You can return to the main News Releases 2004 page, or press the Back button on your browser.