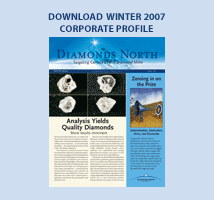 2006 | 2005 | 2004 | 2003 | 2002


 
Tue Jun 22, 2004
Indicator Explorations


---

 
News Release: 04-18

Vancouver, June 22, 2004 - Diamonds North Resources Ltd. (DDN-TSX Venture) has issued 20,000 common shares to Indicator Explorations Ltd. under the terms of an agreement dated May 7, 2004 relating to the acquisition of three mineral exploration licenses in Manitoba previously announced on May 31, 2004.

Under the terms of the agreement, Indicator Explorations has received a cash payment of $10,000 and 20,000 common shares. Further, Indicator Explorations will receive cash payments totaling $530,000, staged over a four year period assuming Diamonds North continues with the project. In addition, Diamonds North will pay Indicator Explorations $80,000 in respect of each of the first three diamondiferous bodies on the property from which Diamonds North collects a bulk sample exceeding 200 tonnes, to a maximum payment under this provision of $240,000. A 1% royalty on any production from the property will be payable to Indicator Explorations.

Diamonds North is a dynamic successful exploration team focused on strategically advancing diamond opportunities and is determined to discover Canada's next diamond mine.


On behalf of Diamonds North Resources Ltd.


Mark Kolebaba,
President

For further information, please contact:

Corporate Communications: Nancy Curry
Diamonds North Resources Ltd.
Telephone:
Facsimile:
Website: diamondsnorthresources.com
Email:

The TSX Venture Exchange has not reviewed and does not accept responsibility for the adequacy of this news release
 
 

You can view the Next News Releases 2004 item: Fri Jul 2, 2004, Brokered Private Placement

You can view the Previous News Releases 2004 item: Thu Jun 17, 2004, Private Placement Closed

You can return to the main News Releases 2004 page, or press the Back button on your browser.