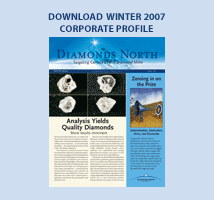 2006 | 2005 | 2004 | 2003 | 2002


 
Tue Jul 13, 2004
Kennecott and Diamonds North Join Forces in Nunavut


---

 
VANCOUVER, July 13, 2004 -- Diamonds North Resources Ltd. (DDN-TSX Venture) announced today a joint venture agreement reached with Kennecott Canada Exploration Inc. to merge land holdings in Nunavut.

The 956,000-acre property, named Arnak (location map), is located immediately south of the Amaruk property---a joint venture between Diamonds North and BHP Billiton Diamonds Inc. in the eastern Arctic. The Arnak property now includes 616,000 acres of permits acquired by Kennecott, approximately 140,000 acres of claims (subject to a 2% royalty payable to BHP Billiton Diamonds Inc.) staked at Diamonds North's cost and 200,000 acres of claims acquired at a cost to Kennecott.

Under the terms of the agreement, Kennecott holds 74% and Diamonds North holds 26% of the Arnak property. Kennecott must sole fund the first $5,500,000 in exploration costs over the next four years or its entire interest reverts to a 1% royalty on the 616,000 acres of permits only. Upon Kennecott completing their commitment, Diamonds North will pay its pro-rata share of the exploration and development costs.

During the first year of the joint venture, Kennecott has committed to spending a minimum of $1,000,000 on the property. Work will include airborne geophysical coverage of the entire property and heavy mineral sampling.

This transaction is consistent with the company's business strategy of leveraging strategic property holdings and providing additional opportunity for shareholders while mitigating the initial financial risk.

Mark Kolebaba, President of Diamonds North states, "We are pleased with this strategic partnership as it positions Diamonds North as the prime landholder in this rapidly developing diamond region and provides us with the benefit of Kennecott's proven ability to discover diamonds in Canada."

This agreement is subject to acceptance from the TSX Venture Exchange and the Nunavut Mining Recorder awarding Diamonds North 80% or more of the 140,000 acre claim block.

Kennecott Canada Exploration Inc. is a Rio Tinto Group company which was instrumental in the discovery and development of the Diavik Diamond Mine in Canada.

Diamonds North is a dynamic exploration team focused on strategically advancing diamond opportunities and is determined to discover Canada's next diamond mine.



On behalf of Diamonds North Resources Ltd.


Mark Kolebaba
President & CEO
For further information, please contact:

Corporate Communications: Nancy Curry
Diamonds North Resources Ltd.
Telephone:
Facsimile:
Website: https://diamondsnorthresources.com
Email: mailto:



The TSX Venture Exchange has not reviewed and does not accept responsibility for the adequacy of this news release
 
 

You can view the Next News Releases 2004 item: Wed Jul 14, 2004, $180,000 Non-Brokered Private Placement With Canadian Major

You can view the Previous News Releases 2004 item: Fri Jul 2, 2004, Brokered Private Placement

You can return to the main News Releases 2004 page, or press the Back button on your browser.