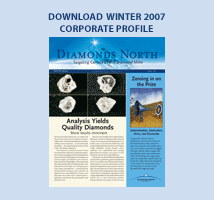 2006 | 2005 | 2004 | 2003 | 2002


 
Wed Jul 14, 2004
$180,000 Non-Brokered Private Placement With Canadian Major


---

 
Vancouver, July 14, 2004 -- Diamonds North Resources Ltd. (DDN -- TSX Venture) announces an $180,000 non-brokered private placement with Teck Cominco Limited. Teck Cominco will subscribe for 144,000 flow-through common shares at a price of $1.25 per share. This private placement relates to the recently completed brokered private placement of $3,000,000 and the June 18, 2003 Participation Agreement between Diamonds North and Teck Cominco. Teck Cominco has exercised its right to participate in financings at a level of 6% to retain its right to participate in future equity financings.

This private placement is subject to the approval of the TSX Venture Exchange. The proceeds will be used for exploration on the Company's projects in Canada.
Diamonds North is a dynamic exploration team focused on strategically advancing diamond opportunities and is determined to discover Canada's next diamond mine.

ON BEHALF OF THE BOARD OF DIRECTORS



Mark Kolebaba
President


For further information, please contact:
Corporate Communications:
Nancy Curry
Diamonds North Resources Ltd.
Telephone:
Facsimile:
Website: https://diamondsnorthresources.com
Email: mailto:



The TSX Venture Exchange has not reviewed and does not accept responsibility for the adequacy of this news release
 
 

You can view the Next News Releases 2004 item: Tue Jul 20, 2004, Diamonds North's Summary of Exploration Activities for 2004

You can view the Previous News Releases 2004 item: Tue Jul 13, 2004, Kennecott and Diamonds North Join Forces in Nunavut

You can return to the main News Releases 2004 page, or press the Back button on your browser.