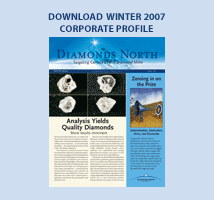 2006 | 2005 | 2004 | 2003 | 2002


 
Tue Jul 20, 2004
Diamonds North's Summary of Exploration Activities for 2004


---

 
Vancouver, July 20, 2004 -- Diamonds North Resources Ltd. (DDN -- TSX Venture) announces its diamond exploration budgets and programs for 2004. This year, over $11 Million will be spent on Diamonds North's projects which is more than double the 2003 budget of $4.8 Million. Since 2003, Diamonds North has increased its land holdings to 12,000,000 acres from 2,000,000 acres with projects in three main prospective regions in Canada. The company has attracted financings and project funding from three major mining companies including Teck Cominco Limited, BHP Billiton Diamonds Inc. and Kennecott Canada Exploration Inc.

Mark Kolebaba, President and C.E.O. of Diamonds North commented, "With the quality of our projects and the determination of Diamonds North and its partners, we are confident that we will rapidly advance our projects to the next logical stage of exploration in 2004. Our portfolio and 2004 programs demonstrate Diamonds North's ability to increase exploration opportunity while managing financial and technical risk for our shareholders."

Diamonds North continues to follow its business model which it believes increases the company's diamond exploration opportunities while managing the technical and financial risks for its shareholders. A brief summary of the company's 2004 activities and opportunities are described below.


BLUE ICE PROJECT (Including White Ice and Hadley Bay)
LOCATION: Victoria Island, Northwest Territories and Nunavut
BUDGET: $3 million funded by Teck Cominco Limited

OBJECTIVE: To gain further information on the distribution of larger diamonds in the Victoria Island kimberlites and to add potential tonnage to the project by drilling new kimberlites on the property.

The 2004 exploration program will focus on drilling and geophysical surveying. The drill program is designed to collect larger samples from specific kimberlite bodies along both the Galaxy and King Eider kimberlite trends and to test up to ten new high priority magnetic and electromagnetic (EM) targets identified from the 2003 and 2004 airborne surveys.
To date, numerous drill targets have been selected, and several geophysical anomalies are yet to be evaluated. EM surveys over the King Eider and Galaxy kimberlite trends have been completed with preliminary data indicating that EM detects some of the known kimberlites. Several new anomalies have also been identified, potentially providing the project with another effective method of targeting kimberlite.


AMARUK PROJECT
LOCATION: Nunavut
BUDGET: In excess of $4 million funded by BHP Billiton Diamonds Inc.

OBJECTIVE: To identify drill targets in the central portion of the project and further evaluate areas with known indicator mineral occurrences within the overall property.

Diamonds North and BHP Billiton have doubled the originally planned geophysical survey with approximately 11000 line kilometres of magnetics and EM completed over the central part of the property. The survey covers high priority areas defined by an abundance of kimberlite indicator minerals. Interpretation of preliminary data is underway to help focus the 2004 exploration efforts. Anomaly selection and interpretation will commence upon receipt of final data expected in August.
BHP Billiton has mobilized a sampling crew to collect an additional 3000 samples from the entire property.


ARNAK PROJECT
LOCATION: Nunavut
BUDGET: $1 million funded by Kennecott Canada Exploration Inc.

OBJECTIVE: To evaluate the diamond potential of the claim block, which is contiguous to the southwestern portion of the Amaruk project.

The Arnak property will be evaluated with airborne geophysics and heavy mineral sampling. A magnetic survey over the northern portion of the property is currently underway. A sampling crew will be mobilized in August to collect additional till samples.


KIDME-MISTY PROJECTS
LOCATION: Northwest Territories
BUDGET: $500,000 funded 60 percent by SouthernEra Resources and 40 percent by Diamonds North

OBJECTIVE: To evaluate the 2003 airborne geophysical anomalies and identify high priority drill targets on the project which is immediately south of the De Beers/Mountain Province Gahcho Kué.

Forty geophysical anomalies were identified from a detailed airborne geophysical survey conducted in late 2003. To date, five of the anomalies qualify as drill targets. A drill program will be implemented once all anomalies have been evaluated.
In January 2004, the partners staked an additional 80,000 acres of claims to protect anomalies near the southern boundaries of Kidme. These claims will be sampled during the 2004 season.


WELLINGTON PROJECT
LOCATION: Victoria Island, Nunavut
BUDGET: $170,000 funded by Majescor Resources Inc.

OBJECTIVE: To identify high priority drill targets along the potential extensions of the known diamondiferous kimberlite trends located on the Blue Ice Project.

An airborne EM survey was completed over part of the Wellington claims southeast of the Galaxy kimberlite trend in late June 2004. A magnetic survey over the northern Wellington claim

block southeast of the King Eider kimberlite trend is also planned. Drill target selection will commence immediately upon receipt of data.


NORTHERN RECON INITIATIVE PROJECT
LOCATION: Canada
BUDGET: $2 million funded by Diamonds North

OBJECTIVE: To develop new prospective diamond projects that will add value to the company.

The Northern Recon Initiative comprises numerous Canadian grassroots projects within the company's property portfolio. This initiative resulted in the discovery of the Amaruk project in 2003.
Some of the projects include the Red Ice and Argonaut projects on Victoria Island, the Highlands project in Manitoba and claims recently staked in the Melville Peninsula area of Nunavut.
The Red Ice and Argonaut claims cover two distinct areas with indicator minerals recovered from regional sampling. Diamonds North will conduct detailed airborne geophysical surveys over these properties followed by heavy mineral sampling.
On the Manitoba Highlands project, Diamonds North is currently conducting a sampling program to test the diamond potential of the property.

Diamonds North is a dynamic exploration team focused on strategically advancing diamond opportunities and determined to discover Canada's next diamond mine.

ON BEHALF OF THE BOARD OF DIRECTORS



Mark Kolebaba
President


For further information, please contact:
Corporate Communications: Nancy Curry
Diamonds North Resources Ltd.
Telephone:
Facsimile:
Website: https://diamondsnorthresources.com
Email: mailto:



The TSX Venture Exchange has not reviewed and does not accept responsibility for the adequacy of this news release
 
 

You can view the Next News Releases 2004 item: Wed Jul 28, 2004, $180,000 Non-Brokered Private Placement Completed

You can view the Previous News Releases 2004 item: Wed Jul 14, 2004, $180,000 Non-Brokered Private Placement With Canadian Major

You can return to the main News Releases 2004 page, or press the Back button on your browser.