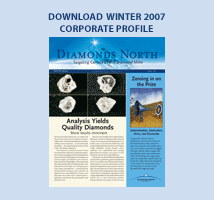 2006 | 2005 | 2004 | 2003 | 2002


 
Tue Sep 14, 2004
Diamonds North Discovers Kimberlite on Amaruk Project


---

 
TSX Venture Exchange: DDN
News Release: 04-26


Vancouver, September 14, 2004 -- Diamonds North Resources Ltd. (DDN -- TSX Venture) and BHP Billiton Diamonds Inc. announces today the discovery of kimberlite on the Amaruk project in Nunavut south of Kugaruuk. Kimberlite in the form of coarse boulders and fragments was discovered in three areas on the property during a short site visit by Diamonds North personnel confirming Canada's newest kimberlite district.

In the first area, approximately 350 kilograms of kimberlite material has been collected for diamond analysis from five discrete sites forming a 2.3 kilometres northwest trend. This area (Area 1) is on trend with a 2003 till sample that returned 1350 kimberlite indicator minerals. The variability of the kimberlite types, size and high abundance of boulders from site to site suggests the potential for multiple sources nearby.

Numerous kimberlite fragments were also recovered from a second site (Area 2) on the property approximately 10 kilometres east of Area 1 where no 2003 sample data was available. The kimberlite fragments were traced over a distance of more than 600 metres to a lake where the glacial dispersion appears to terminate. Insufficient sample volume for diamond analysis was obtained at this site.

At a third location (Area 3), approximately 30 kilometres northeast of Area 2 within the original BHP Billiton permits, small fragments of ultramafic kimberlite like rock were recovered down ice of a 2003 till sample that yielded 89 kimberlite indicator minerals. The small rock fragments have not yet been definitively verified as kimberlite. Insufficient sample volume for diamond analysis was obtained at this location.

The Amaruk property now comprises over 8 million acres of claims and exploration permits which are held jointly on a 50:50 basis by Diamonds North and BHP Billiton. Under the terms of the agreement, BHP Billiton is currently the operator and may earn an additional 10% in the project by sole funding through to a completed feasibility study (see News Release NR04-12, May 17th, 2004). The $4 million exploration program on the Amaruk property has been completed. Data from the 3000 till samples and 11,000 line kilometres of airborne geophysics will be interpreted to identify potential kimberlite targets for drill testing.

Mark Kolebaba, the company's president states, "We are excited with the potential of Amaruk, Canada's newest kimberlite district. Within a couple of days of walking around small portions of this massive 8 million acre property, we have identified kimberlite in areas with kimberlite indicator mineral support and in one area with no previous sample data. With the aid of extensive new data collected by BHP Billiton in 2004, we believe that this property has the potential to deliver the goods."

The term kimberlite is used here as a field descriptive term. Selected specimens have been submitted for final petrographic verification. Samples for diamond analysis will be transferred to BHP Billiton for processing at SGS Lakefield. Diamonds North's qualified person for the site visit was Dale Mah (P. Geol).

Diamonds North is a dynamic exploration team focused on strategically advancing diamond opportunities and determined to discover Canada's next diamond mine.

ON BEHALF OF THE BOARD OF DIRECTORS




Mark Kolebaba
President


For further information, please contact:
Corporate Communications:
Nancy Curry
Diamonds North Resources Ltd.
Telephone:
Facsimile:
Website: diamondsnorthresources.com
Email:



The TSX Venture Exchange has not reviewed and does not accept responsibility for the adequacy of this news release
 
 

You can view the Next News Releases 2004 item: Wed Oct 13, 2004, Diamonds North and Kennecott Advance Arnak Property

You can view the Previous News Releases 2004 item: Thu Aug 26, 2004, Summary of Financial Statements for the Six Months Ended June 30, 2004

You can return to the main News Releases 2004 page, or press the Back button on your browser.