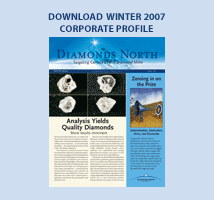 2006 | 2005 | 2004 | 2003 | 2002


 
Mon Nov 29, 2004
Diamonds North Identifies Another Potential Diamond District in Nunavut


---

 
Vancouver, November 29th, 2004 -- Diamonds North Resources Ltd. (DDN -- TSX Venture) has staked 300,000 acres of land approximately 100 kilometres south of Baker Lake in Nunavut. Staking of the Tasiq claims was prompted by the recovery of kimberlite indicator minerals from several till samples collected under the company's Northern Recon Initiative program.

A full suite of kimberlite indicator minerals has been recovered from multiple samples, with several grains exhibiting primary surface textures. In addition, a kimberlite fragment attached to an ilmenite grain was identified. This data strongly suggests the presence of a nearby kimberlite body.

The Tasiq project is surrounded by and adjacent to a large block of permits held by De Beers Canada Exploration Inc. The sample results indicate that the up-ice samples do not contain the same indicator mineral suite suggesting that the Tasiq property has high potential of hosting kimberlite.

Mark Kolebaba the company's president states, "the Tasiq project emerged from a small portion of samples collected during our 2004 Northern Recon Initiative program and we hope to report additional exciting developments elsewhere in Canada as we receive more results."

Diamonds North's Northern Recon Initiative is a component of the company's exploration strategy designed to add value by identifying and capturing new diamond opportunities in Canada. The Northern Recon Initiative represents approximately $2 million of the company's $12 million exploration programs funded by both the company and its partners in 2004. Bruce Kienlen (P. Geol) is the qualified person responsible for the project.

Diamonds North is a dynamic exploration team focused on strategically advancing diamond opportunities and determined to discover Canada's next diamond mine.
ON BEHALF OF THE BOARD OF DIRECTORS


Mark Kolebaba
President


For further information, please contact:
Corporate Communications: Nancy Curry
Diamonds North Resources Ltd.
Telephone:
Facsimile:
Website: diamondsnorthresources.com
Email:



The TSX Venture Exchange has not reviewed and does not accept responsibility for the adequacy of this news release



 
 

You can view the Next News Releases 2004 item: Mon Dec 6, 2004, Amaruk Kimberlite Float Diamondiferous

You can view the Previous News Releases 2004 item: Tue Oct 19, 2004, Terry Lyons Joins Diamonds North Board

You can return to the main News Releases 2004 page, or press the Back button on your browser.