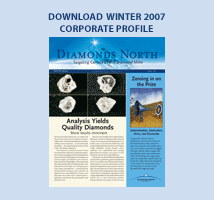 2006 | 2005 | 2004 | 2003 | 2002


 
Thu Dec 9, 2004
Victoria Island Project Expanded for 2005


---

 
News Release: 04-31

Vancouver, December 9th, 2004 - Diamonds North Resources Ltd. (DDN - TSX Venture) announces that Teck Cominco Limited ("Teck Cominco") has met the 2004 requirements under the 2004 Amending Agreement (see news release NR04-06) and has elected to include the White Ice and Hadley Bay projects under the Blue Ice Participation Agreement.

Teck Cominco is planning a 2005 exploration program with a minimum budget of $3,000,000 on Victoria Island (Blue Ice, White Ice and Hadley Bay projects) located in Nunavut and Northwest Territories.

The 2005 exploration program has been designed to be conducted in 2 stages. The initial spring program is designed to test a significant number of land and lake based targets using reverse circulation and core drilling. The summer program will comprise continued drilling on land based targets. Additional airborne geophysical surveying, till sampling and prospecting are also planned.

Mark Kolebaba the company's president states, "We look forward to continuing our productive partnership with Teck Cominco. The advancement of the project through our combined efforts has increased the exploration potential of the property and has given the project a very clear path forward. In 2004, we have successfully identified new sizable drill targets and are evaluating large previously untested areas of the property."

For the first time, electromagnetic (EM) and magnetic airborne surveying over parts of the Galaxy and King Eider structures in 2004 resulted in the detection of some of the known kimberlite bodies on the property. This survey also identified a number of large circular EM anomalies ranging from 200 to 250 metres in diameter, some of which exhibit a subtle coincident magnetic response. These new anomalies will rank high during target selection for drill testing in 2005.

In 2004, approximately 1200 kilograms of drill core from the Snow Bunting, King Eider and Turnstone kimberlites were collected. In addition, an estimated 30 kilogram drill core sample of kimberlite was obtained from a kimberlite dyke extending between the Meister and Jaeger kimberlites on the King Eider trend. The true width of the intersection measures 2.69 metres (assuming the body is vertical) and the kimberlite is believed to extend for a minimum of 2.5 kilometres based on magnetic interpretation. Processing of the kimberlite samples is underway and the first set of results is expected by the end of December, 2004.

Graham Gill (P. Geo) is Diamonds North's qualified person reviewing the data for the project.

Diamonds North is a dynamic exploration team focused on strategically advancing diamond opportunities and is determined to discover Canada's next diamond mine.


ON BEHALF OF THE BOARD OF DIRECTORS

Mark Kolebaba
President


For further information, please contact:

Corporate Communications: Nancy Curry
Diamonds North Resources Ltd.
Telephone:
Facsimile:
Website: diamondsnorthresources.com
Email:

The TSX Venture Exchange has not reviewed and does not accept responsibility for the adequacy of this news release
 
 

You can view the Next News Releases 2004 item: Mon Dec 13, 2004, $500,000 Non-Brokered Private Placement

You can view the Previous News Releases 2004 item: Mon Dec 6, 2004, Amaruk Kimberlite Float Diamondiferous

You can return to the main News Releases 2004 page, or press the Back button on your browser.