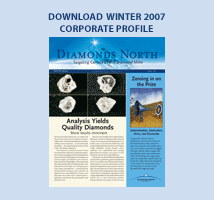 2006 | 2005 | 2004 | 2003 | 2002


 
Thu Dec 23, 2004
Non-Brokered Financings Completed


---

 
News Release: 04-34

VANCOUVER, December 23, 2004 - Diamonds North Resources Ltd. (DDN-TSX Venture) reports the private placements announced on December 13, 2004 and December 17, 2004 have been completed. A total of 530,000 common shares, of which 500,000 shares are flow-through, were issued at a price of $1.00 per share.

Finders' fees were paid in cash and warrants as follows: Dundee Securities Corp. received $6,600 and 7,700 warrants; Raymond James received $12,720 and 14,840 warrants; Canaccord Capital Corporation received $900 and 1,050 warrants. The finders' warrants are exercisable at $1.00 to December 23, 2005.

The securities are subject to a four month hold period and may not be traded until April 24, 2005.

The proceeds from the financing will be used for the continuing development of the Company's diamond projects in Nunavut and Northwest Territories, Canada and for general working capital.

Diamonds North is a dynamic exploration team focused on strategically advancing diamond opportunities and is determined to discover Canada's next diamond mine.



Janice Davies
Corporate Secretary


For further information, please contact:

Corporate Communications: Nancy Curry
Diamonds North Resources Ltd.
Telephone:
Facsimile:
Website: diamondsnorthresources.com
Email:



The TSX Venture Exchange has not reviewed and does not accept responsibility for the adequacy of this news release
 
 

You can view the Previous News Releases 2004 item: Fri Dec 17, 2004, Non Brokered Private Placement

You can return to the main News Releases 2004 page, or press the Back button on your browser.