Jan 10, 2007 : Diamonds North and Majescor Identify High Priority Drill Targets on Ba... more...

Jan 08, 2007 : Amaruk Project Update Diamond Results Pending for Five Kimberlites - P... more...

Dec 04, 2006 : Uranium North Set To Close Financing And Commence To Trade more...

Nov 16, 2006 : Diamonds North Announces Closing of $7 Million Private Placement more...

Oct 26, 2006 : $6 Million "Bought Deal" Financing more...

Oct 12, 2006 : Diamonds North and Arctic Star to Explore in Canada's Newest Kimberlit... more...

Oct 05, 2006 : 19 New Kimberlite Float Occurrences on Amaruk Further Demonstrates the... more...

Sep 27, 2006 : Drill Targets Identified on the Ualliq property more...

Sep 20, 2006 : Diamonds North Increases Kimberlite Tally to Five Demonstrating Amaruk... more...

Aug 23, 2006 : Target Testing Underway at Amaruk -- New Kimberlite Discovered more...

Aug 15, 2006 : Shear Minerals and Diamonds North to Explore the Sakari property more...

Aug 02, 2006 : Diamonds North and International Samuel to Explore the Ualliq property more...

Aug 01, 2006 : Diamonds North Closes Plan of Arrangement for Shareholders to Receive ... more...

Jul 19, 2006 : Diamonds North sets Effective Date for Shareholders to Receive Uranium... more...

Jul 17, 2006 : Pathfinder Starts Major Airborne Geophysical Survey at Thelon Basin Ur... more...

Jul 14, 2006 : Diamonds North Grants Options more...

Jul 13, 2006 : Diamonds North To Drill The Amaruk Project more...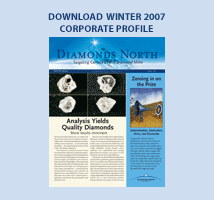 2006 | 2005 | 2004 | 2003 | 2002


 
Thu Mar 16, 2006
Diamonds North Shareholders to Receive Shares in New Uranium Exploration Company


---

 
News Release: 06-08

VANCOUVER, March 16, 2006 - Diamonds North Resources Ltd. (TSX-V: DDN) announces a proposal to form a separate company to explore for uranium. The new Company, Uranium North Resources Corp., will focus on exploring one of Canada's largest prospective uranium land packages, which is currently held by Diamonds North. This transaction is in line with Diamonds North's business strategy of maximizing value, while maintaining its focus on diamond exploration.

Under the terms of the proposed arrangement, Diamonds North's shares will be restructured into New Common Shares and Reorganization Shares on the basis that for each six common shares held on the completion date, six New Common Shares and one Reorganization Share will be issued to the shareholder. By a tax free share exchange, the holders of Diamonds North's Reorganization Shares will receive shares in Uranium North on the basis that one share of Uranium North will be issued to the shareholder for each Reorganization Share exchanged.

The uranium assets have not been a focus for Diamonds North and have contributed minimal market value to the Company. By transferring the uranium assets into a new company, management believes shareholders can capture additional value without dilution to Diamonds North and without diverting Diamonds North's attention from key diamond projects such as Amaruk and Hepburn. Uranium North will be funded by a planned prospectus offering followed by a TSX Venture Exchange listing. Uranium North will have a separate management group from Diamonds North.

Between 2002 and 2005, Diamonds North aggressively acquired mineral rights for 27 million acres of land in Northern Canada. Approximately 3 million acres of land within the Thelon, Baker Lake and Hornby Bay Basins have been identified as prospective for uranium.

The main uranium and rights on uranium properties to be transferred to Uranium North include the Baker/Thelon projects, Thelon JV, Hepburn, Kazan and Amer projects. Based on a review of historic data for the projects and geochemical results from till samples collected by Diamonds North, the company has identified multiple uranium showings, boulder trains and areas with elevated uranium values in till. On the Baker/Thelon project for example, Diamonds North has identified at least 10 separate historic bedrock showings and boulder trains with U3O8 values ranging from 0.2% to greater than 5% (five occurrences ranging between 1% to 2.5% U3O8). More comprehensive property descriptions for each project will be released shortly upon completion of a NI 43-101 report.

Initial working capital will be provided by a $300,000 loan from Diamonds North, which will be convertible by Diamonds North into Uranium North securities at a conversion price equal to the planned prospectus offering price. Diamonds North will be issued approximately 1,500,000 shares of Uranium North as a bonus for the foregoing loan and to provide a measure of control over this new company. On completion of the reorganization and prospectus financing, Diamonds North will hold just under 10% of Uranium North, with approximately 40% of the issued shares of Uranium North being held by the Diamonds North shareholders and 50% by the prospectus purchasers.

The proposed reorganization is subject to shareholder approval by resolution approved by 66 and 2/3rds of the votes cast. The Company expects to present the matter to shareholders at the next annual general meeting to be held May 10, 2006. The Company anticipates that the reorganization and listing of Uranium North to be completed shortly thereafter. The reorganization is also subject to approval of the Supreme Court of British Columbia and to acceptance by the TSX Venture Exchange. Further particulars will be announced in due course.

Bruce Kienlen (P.Geol) and Graham Gill (P. Geo) are Diamonds North's qualified persons reviewing the data for these projects.

Diamonds North is a dynamic successful exploration team focused on strategically advancing diamond opportunities and is determined to discover Canada's next diamond mine.


On behalf of Diamonds North Resources Ltd.



Mark Kolebaba
President & CEO


For further information, please contact:

Corporate Communications: Nancy Curry
Diamonds North Resources Ltd.
Telephone:
Facsimile:
Website: www.diamondsnorth.com
Email:


The TSX Venture Exchange has not reviewed and does not accept responsibility for the adequacy or accuracy of this release. Statements in this press release, other than purely historical information, including statements relating to the Company's future plans and objectives or expected results, may include forward-looking statements. Forward-looking statements are based on numerous assumptions and are subject to all of the risks and uncertainties inherent in resource exploration and development. As a result, actual results may vary materially from those described in the forward-looking statements.
 
 

You can view the Next News Releases 2006 item: Thu Apr 13, 2006, Diamonds North grants Options

You can view the Previous News Releases 2006 item: Fri Mar 3, 2006, Diamonds North Announces Senior Management Appointments

You can return to the main News Releases 2006 page, or press the Back button on your browser.