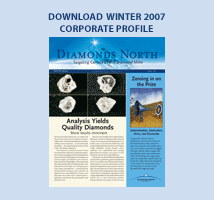 2006 | 2005 | 2004 | 2003 | 2002


 
Wed Oct 13, 2004
Diamonds North and Kennecott Advance Arnak Property


---

 
Vancouver, October 13, 2004 -- Diamonds North Resources Ltd. (DDN -- TSX Venture) and Kennecott Canada Exploration Inc. provide an update of the exploration progress on the Arnak property. The work conducted on the Arnak property is part of the 2004 $12 million exploration programs funded by the company and its partners. Arnak is located 150 kilometres south of Kuugaruk, Nunavut in Canada's newest emerging kimberlite district. A total of 223 heavy mineral samples and more than 20,000 line kilometres of airborne magnetic data have been collected over the property this season.

The heavy mineral samples are currently being processed at the Kennecott laboratory. Final aero-magnetic data is expected by the end of October. The data will be used to identify targets for drilling. Assuming kimberlites occur in clusters, the potential of the Arnak property has increased, due to the recently discovered kimberlite float on the Amaruk property immediately north (see News Release NR04-26, September 14th, 2004).

The property comprises 978,000 acres of permits and claims held jointly by Kennecott (74%) and Diamonds North (26%). Under the terms of the agreement, Kennecott is the project operator currently sole funding the first $5,500,000 in exploration costs. (see News Release NR04-20, July 13th, 2004).

Kennecott Canada Exploration Inc. is a Rio Tinto Group company which was instrumental in the discovery and development of the Diavik Diamond Mine in Canada.

Diamonds North is a dynamic exploration team focused on strategically advancing diamond opportunities and determined to discover Canada's next diamond mine.

ON BEHALF OF THE BOARD OF DIRECTORS


Mark Kolebaba
President


For further information, please contact:
Corporate Communications: Nancy Curry
Diamonds North Resources Ltd.
Telephone:
Facsimile:
Website: diamondsnorthresources.com
Email:



The TSX Venture Exchange has not reviewed and does not accept responsibility for the adequacy of this news release
 
 

You can view the Next News Releases 2004 item: Tue Oct 19, 2004, Terry Lyons Joins Diamonds North Board

You can view the Previous News Releases 2004 item: Tue Sep 14, 2004, Diamonds North Discovers Kimberlite on Amaruk Project

You can return to the main News Releases 2004 page, or press the Back button on your browser.