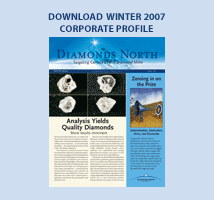 2006 | 2005 | 2004 | 2003 | 2002


 
Tue Oct 19, 2004
Terry Lyons Joins Diamonds North Board


---

 
Vancouver, October 19, 2004 -- Diamonds North Resources Ltd. (DDN -- TSX Venture) announces that Mr. Terry Lyons has been appointed to the Board of Directors of the company. As an independent director, Mr. Lyons brings to Diamonds North over 30 years of business experience in natural resources, manufacturing, real estate, merchant banking and corporate restructuring activities. He holds a B.Sc. in Civil Engineering from the University of British Columbia and an MBA from the University of Western Ontario.

Mr. Lyons is currently the Chairman of the Board of Northgate Minerals Corporation, a company that is actively mining in British Columbia. Since 1976 Mr. Lyons has held a variety of senior positions at Versatile Corporation where he was involved in strategic planning, budgeting, finance, mergers, acquisitions and project management. In 1986 he was appointed Senior Vice-President responsible for the restructuring of Versatile Corporation, now known as BC Pacific Capital Corporation which is an affiliate of Brascan Financial Corporation.

Mr. Lyons is a director and officer of several public corporations including BC Pacific Capital Corporation, and Canaccord Capital Inc. Mr. Lyons also served as the Chairman of the Board of Westmin Resources Ltd. and was a director of the Battle Mountain Gold Company. An active member of the community, Mr. Lyons is a former Governor of the Olympic Foundation of Canada and a member of the Advisory Board of the Richard Ivey School of Business at the University of Western Ontario.

Mark Kolebaba, President of Diamonds North states, "We are very excited to have Mr. Lyons join the Diamonds North team. Mr. Lyons has a proven track record of growing successful companies and I believe his business skills, focus on corporate governance and experience in mining and project permitting will benefit our shareholders as Diamonds North continues to rapidly grow".

The Board of Directors has granted Mr. Lyons an incentive stock option under the Company's stock option plan to purchase 300,000 common shares at an exercise price of $1.00 per share over five years. The options are subject to the policies of the TSX Venture Exchange.

Diamonds North is a dynamic exploration team focused on strategically advancing diamond opportunities and determined to discover Canada's next diamond mine.
ON BEHALF OF THE BOARD OF DIRECTORS


Mark Kolebaba
President


For further information, please contact:
Corporate Communications: Nancy Curry
Diamonds North Resources Ltd.
Telephone:
Facsimile:
Website: diamondsnorthresources.com
Email:



The TSX Venture Exchange has not reviewed and does not accept responsibility for the adequacy of this news release
 
 

You can view the Next News Releases 2004 item: Mon Nov 29, 2004, Diamonds North Identifies Another Potential Diamond District in Nunavut

You can view the Previous News Releases 2004 item: Wed Oct 13, 2004, Diamonds North and Kennecott Advance Arnak Property

You can return to the main News Releases 2004 page, or press the Back button on your browser.