May 24, 2007 : Diamonds North Expands Amaruk Exploration Program Bulk Samples & Drill... more...

May 16, 2007 : Diamonds North Resources And Arctic Star Plan C$1,500,000 Exploration ... more...

May 10, 2007 : Options Granted more...

May 04, 2007 : Diamonds North Resources AGM Thursday May 10th, 2007 and Options Grant... more...

Apr 24, 2007 : Char Kimberlite Yields High Diamond Counts All Drilled Kimberlites Pro... more...

Apr 18, 2007 : Diamonds North Resources And International Samuel Approve C$1,000,000 ... more...

Apr 17, 2007 : Diamonds North Resources And Shear Minerals Ltd. Approve C$185,000 Exp... more...

Mar 29, 2007 : Diamonds North Resources Recovers 515 Diamonds From Qavvik Kimberlite more...

Mar 20, 2007 : Diamonds North To Drill The Hepburn Project, Over 200 Kimberlite Targe... more...

Mar 12, 2007 : Diamonds North Resources Retains Genoa Management Limited For Investor... more...

Feb 28, 2007 : Options Granted more...

Feb 15, 2007 : New Diamond Discoveries on Amaruk more...

Jan 10, 2007 : Diamonds North and Majescor Identify High Priority Drill Targets on Ba... more...

Jan 08, 2007 : Amaruk Project Update Diamond Results Pending for Five Kimberlites - P... more...

Dec 04, 2006 : Uranium North Set To Close Financing And Commence To Trade more...

Nov 16, 2006 : Diamonds North Announces Closing of $7 Million Private Placement more...

Oct 26, 2006 : $6 Million "Bought Deal" Financing more...

Oct 12, 2006 : Diamonds North and Arctic Star to Explore in Canada's Newest Kimberlit... more...

Oct 05, 2006 : 19 New Kimberlite Float Occurrences on Amaruk Further Demonstrates the... more...

Sep 27, 2006 : Drill Targets Identified on the Ualliq property more...

Sep 20, 2006 : Diamonds North Increases Kimberlite Tally to Five Demonstrating Amaruk... more...

Aug 23, 2006 : Target Testing Underway at Amaruk -- New Kimberlite Discovered more...

Aug 15, 2006 : Shear Minerals and Diamonds North to Explore the Sakari property more...

Aug 02, 2006 : Diamonds North and International Samuel to Explore the Ualliq property more...

Aug 01, 2006 : Diamonds North Closes Plan of Arrangement for Shareholders to Receive ... more...

Jul 19, 2006 : Diamonds North sets Effective Date for Shareholders to Receive Uranium... more...

Jul 17, 2006 : Pathfinder Starts Major Airborne Geophysical Survey at Thelon Basin Ur... more...

Jul 14, 2006 : Diamonds North Grants Options more...

Jul 13, 2006 : Diamonds North To Drill The Amaruk Project more...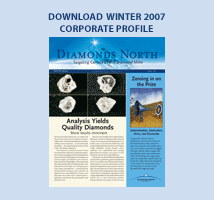 2006 | 2005 | 2004 | 2003 | 2002


 
Tue May 9, 2006
Amaruk Update - Microdiamond Characteristics Exceptional


---

 
VANCOUVER, May 9th, 2006 - Diamonds North Resources Ltd. (TSX-V: DDN) reports exceptionally positive characteristics of microdiamonds from the Amaruk property in Nunavut. A high percentage of the microdiamonds are white or colorless, in favourable crystal forms and of high clarity. This data further demonstrates the economic potential of the Amaruk property. Drill targets are currently being prioritized and a drill program for 2006 will be released shortly.

Microdiamonds from the Umingmak kimberlite pipe and WMC kimberlite float occurrence were submitted to Mineral Services Canada Inc., an independent consultant, for a complete description of the physical characteristics of each diamond submitted. Mineral Services has extensive experience working with microdiamond data from many exploration projects and mines worldwide including the Ekati Diamond Mine. A summary of the colour, form, and clarity of the Umingmak and WMC mircodiamonds (209 diamonds) as reported by Mineral Services is provided below:

"This set of microdiamonds has an unusually positive overall appearance...

Colour

The lack of colour in the diamonds is absolutely exceptional. All except two stones have been classified as colourless and the remaining two are a pale shade of brown. This is extremely unusual and has no parallel in the Mineral Services records.

Shape

Over 75% of the stones show octahedral crystal morphology. With the exception of a single cube the rest of the diamonds that have identifiable shapes are tetrahexahedra, with just under 10% classified as unassignable fragments. This proportion of fragments is unusually low and the absence of cubes is a positive sign since cubes rarely have a high commercial value. A little more than 15% of the diamonds have shapes that suggest that diamond yield in the polishing process will be excellent, whilst another 81% will have reasonably good yield characteristics as their shapes suggest that if they where larger they would fall into the sawable category. The proportion of broken stones is low and the proportion of aggregates at 15% is not particularly high. Both macles and interpenetrant twins are more common than average.

Clarity

The diamonds are also of exceptionally high clarity, 85% being essentially clean and there is also a complete absence of stones with very poor clarity characteristics (i.e. 4's or 5's in the classification scheme). Ninety-seven percent of the diamonds are transparent and are therefore essentially inclusion and fracture free. Only 14 frosted diamonds were identified and only one fibrous diamond is present. Coated stones are entirely absent.

Overall these characteristics are excellent and if carried through into a macrodiamond population, the diamonds would be of high average value. The lack of colour, generally satisfactory shapes and the absence of fractures and inclusions are very positive features.

Summary

The microdiamonds recovered from these two samples have excellent characteristics. The proportion of white stones is absolutely outstanding, as is the proportion of stones without inclusions or fractures. In general, diamond shapes are good. The absence of cubes is another positive, as is the low proportion of aggregates. The relatively high proportion of twins is a negative, but their relative abundance is not sufficiently high to be a dominant factor.

If the overall characteristics of these microdiamonds carry through to the macrodiamond population and the size distribution of the macrodiamonds is satisfactory, then the average value per carat for diamonds from this body should be high."

Mineral Services Canada Inc. (2006) Physical Characteristics of Microdiamonds Recovered From Samples NA 13008 and NA13015, Amaruk Property, Nunavut, 14 pages.

To view a selection of photos of the Amaruk diamonds, please visit the following link on the Company's website; https://diamondsnorthresources.com/s/Amaruk.asp

Diamonds North's diamond results previously released for the WMC kimberlite sample in particular, demonstrate favourable diamond counts and size distribution. A 96 kg sample yielded 148 diamonds with stones remaining on the 0.85mm mesh (News Release February 2, 2006). These results combined with the favourable diamond descriptions demonstrates that Diamonds North's exploration target, i.e. high grade kimberlites with higher than average value diamonds is realistic on the Amaruk property.

President of Diamonds North, Mark Kolebaba summarizes "Every kimberlite sample from the Pelly Bay region submitted for caustic fusion to date has yielded diamonds. Based on recent high diamond counts and these very promising microdiamond characteristics, I believe that this could be one of the most significant diamond discoveries since Lac de Gras in the Slave Province."

Drill targets on Amaruk are currently being evaluated and planning for the 2006 exploration program is well underway.

Bruce Kienlen (P.Geol) and Graham Gill (P. Geo) are Diamonds North's qualified persons reviewing the data for these projects.

Diamonds North is a dynamic successful exploration team focused on strategically advancing diamond opportunities and is determined to discover Canada's next diamond mine.

On behalf of Diamonds North Resources Ltd.

Mark Kolebaba
President & CEO

For further information, please contact:
Corporate Communications: Nancy Curry
Diamonds North Resources Ltd.
Telephone:
Facsimile:
Website: www.diamondsnorth.com
Email:

The TSX Venture Exchange has not reviewed and does not accept responsibility for the adequacy or accuracy of this release. Statements in this press release, other than purely historical information, including statements relating to the Company's future plans and objectives or expected results, may include forward-looking statements. Forward-looking statements are based on numerous assumptions and are subject to all of the risks and uncertainties inherent in resource exploration and development. As a result, actual results may vary materially from those described in the forward-looking statements.
 
 

You can view the Next News Releases 2006 item: Wed Jun 7, 2006, Diamonds North Appoints Uranium North's Board of Directors

You can view the Previous News Releases 2006 item: Thu May 4, 2006, Diamonds North Unveils Uranium Portfolio

You can return to the main News Releases 2006 page, or press the Back button on your browser.