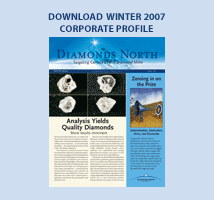 | | |
| --- | --- |
| Location: | Northwest Territories |
| Est. Size: | 1,500,000 Acres |
| Ownership: | 100% Diamonds North |
| Opportunity: | Ekati / Diavik size deposits on unexplored area on Slave Province |
click to enlarge


Hepburn Kimberlite Indicator
Mineral Fields

The Hepburn property has Ekati-Diavik size deposit potential based on the large number of sizable kimberlite targets and compelling mineral chemistry. The Ekati and Diavik Diamond mines are Canada's largest and most profitable diamond mines.

Mineral chemistry reveals a significant proportion of Ekati-Diavik quality G10 and eclogitic garnets that indicate the possibility of kimberlites with economic diamond grades existing on the property.

To date, about 30% of the property has been surveyed with airborne geophysics. More than 200 targets, ranging from 1 to 8 hectares in size, have been identified. Indicator mineral data suggests two kimberlite fields may exist on this very large, 100% owned property.

The Hepburn property is even more exciting due to its location along the western margin of the Slave Province. The Slave Province is the most prolific diamond terrain in North and South America with three operating diamond mines and two additional mines in development stages.

Update

Diamonds North has completed airborne geophysics over the remaining 70% of the property. The company will evaluate the known targets and interpret the survey to identify additional targets in preparation for drilling.

The location, compelling mineral chemistry, and presence of numerous sizable high-priority targets, position Hepburn as a leading Canadian diamond exploration property.

| | | |
| --- | --- | --- |
| click to enlarge | click to enlarge | click to enlarge |