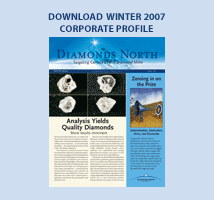 Between 2002 and 2005, Diamonds North aggressively acquired 27 million acres of land prospective for diamonds in Northern Canada. After review of exploration data and historical data, Diamonds North determined approximately three million acres of this land was also highly prospective for uranium. Through a Plan of Arrangement the uranium assets were transferred into a new company, Uranium North Resources Corp, to capture additional value without dilution to Diamonds North, and without diverting Diamonds North's determination of discovering Canada's next diamond mine.





The Plan of Arrangement proposed was approved by the Diamonds North shareholders May 10th, 2006, Diamonds North's shareholders received one share of Uranium North Resources Corp. for every six shares of Diamonds North Resources Ltd. held on the effective date, July 28th, 2006

Uranium North Resources Corp., will focus on exploring a diverse property portfolio of over 4 million acres. Contained within this portfolio is a historical resource (6.7 million pounds of U308 -- non NI43-101 compliant) plus numerous historical U308 prospects with high values. This portfolio distinguishes Uranium North as the only junior uranium explorer with significant and prospective land holdings in what the company believes are Canada's three most prospective basins for high grade, unconformity-vein type uranium deposits; the Athabasca, Thelon and Hornby Bay Basins.