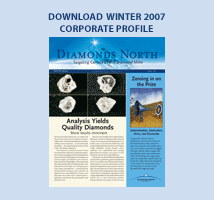 Thelon UNR Project
Largest land holdings in the Thelon Basin
Thelon UNR represents 1.2 million acres and a 20% carried interest to completed feasibility (see news release NR06-11, April 20th, 2006)
Comprehensive EM survey planned for the property in 2006
Numerous uranium enriched boulders identified
Phase I budget planning is underway
On April 14, 2005, Diamonds North announced it had signed a memorandum of understanding (MOU) with Pathfinder Resources Ltd, whereby Pathfinder can earn an 80% interest in uranium rights in Diamond North's Thelon exploration permits in the Northwest Territories. These permits cover more than 2.5 million acres of land within and peripheral to the south-eastern Thelon Basin located approximately 500 kilometres east of Yellowknife, Northwest Territories, Canada.

Under the terms of the MOU, Pathfinder made an initial cash payment of C$100,000, issue 2 million shares (1million having been issued and the 2nd million will be issued on the first year anniversary of the MOU), and spend C$4 million in exploration expenditures over 3 years to earn an 80% interest in the uranium rights. Diamonds North will retain a 20% interest which is carried to completion of a bankable feasibility study on any uranium deposits found on the property. Pathfinder will operate the uranium exploration programs. Diamonds North retains 100% interest in all other commodity rights including diamonds.

After preliminary review of historic uranium data, it was revealed that there are several occurrences of radioactive boulders within the property including sandstone boulders with elevated uranium values of up to 0.13% U3O8. One of the boulder occurrences forms a 3 kilometre wide glacial dispersion train that extends for 20 kilometres. The up-ice source for the boulders has not been determined and based on the known glacial movement and the size and extent of the Thelon property; it is likely that potential bedrock uranium sources occur on the property.

The Thelon Basin is geologically similar to the prolific Athabasca Basin located about 300 kilometres to the south. The Athabasca Basin hosts a number of world-class unconformity-type very high-grade uranium deposits, which have been discovered at depths to 800 metres. The Thelon Basin has a number of unconformity-related uranium prospects, however, due to its more remote location it has not received the intensity of exploration accorded to the Athabasca Basin. Major uranium mining companies actively exploring in the Thelon Basin include Cameco Corporation and Cogema.