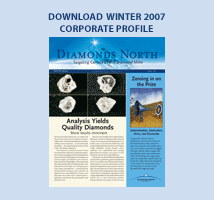 Diamonds North Resources is committed to building long term relationships with northern communities and values the knowledge of the local people. Our goal is to provide mutually shared benefits between community and company.



Working relationships based on respect for local tradition and trust is achieved by maintaining open lines of communication with local residents. Information on company projects is dispersed via news media and public meetings, and through the regulatory process.

Diamonds North welcomes feedback from the communities and seeks consultation on many issues. Many stakeholders are involved in this process including regional and community development corporations, hunter-trapper associations and aboriginal associations. The Company has become well informed on local and regional issues such as wildlife habitat, traditional land use and the importance of local economic benefits.

Open communication and compromise are key to meeting the needs of both local communities and the resource industry.

Diamonds North currently has no operating mines but believes that building strong relationships now will result in solid support from local communities for our projects in the future.