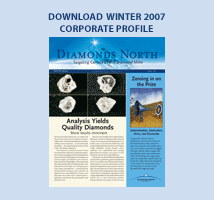 Mark Kolebaba
Position: President, Director & CEO


---


Mark started his diamond career in the early 90's exploring for diamonds in the Guaniamo district, Venezuela. From there Mark joined BHP & Dia Met Joint Venture, working under the likes of Rory Moore, Hugo Dummet & Charles Fipke at Ekati, where his experience ranged from early exploration to feasibility studies for the Panda & Koala pipes. During this time, 123 kimberlites were discovered, and more than 10 kimberlites were bulk sampled. In 1997, Mark initiated exploration outside of the BHP Ekati Project and become more involved in regional exploration in Canada and abroad managing diamond exploration activity in Eastern Canada and exploring for diamonds in China, Russia and Australia. More recently, Mark was part of the global search team charged with growing the diamond portfolio for BHPB world wide (started the Botswana Initiative). Mark joined Diamonds North Resources as President in April 2002.


 
Bernard Kahlert, B.Sc., P.Eng.
Position: Director


---


Bernard started his career in 1966 as a mineral exploration geologist with Canadian Superior Exploration focusing on base metals in Western Canada & the U.S.A. From 1970 to 1985 he worked at Amoco Minerals Co., in 71 he became Manager of Western Australia which included diamond exploration in the Kimberly district from 79 to 81. From 81 through 85, Bernard became Amoco's Western Canada Exploration Manager, focusing on gold and base metals. In 86-90 Bernard was a consulting Geologist working on various commodities in Canada, USA and China.In 1990 Bernard became VP of Exploration for Major General Resources (now Commander Resources Ltd) and was instrumental in assembling the Victoria Island portfolio.


 
Terry Lyons
Position: Director


---


Mr. Lyons brings to Diamonds North over 30 years of business experience in natural resources, manufacturing, real estate, merchant banking and corporate restructuring activities. He holds a B.Sc. in Civil Engineering from the University of British Columbia and an MBA from the University of Western Ontario. Mr. Lyons is currently the Chairman of the Board of Northgate Minerals Corporation. Since 1976 Mr. Lyons has held a variety of senior positions at Versatile Corporation where he was involved in strategic planning, budgeting, finance, mergers, acquisitions and project management. In 1986 he was appointed Senior Vice-President responsible for the restructuring of Versatile Corporation, now known as BC Pacific Capital Corporation which is an affiliate of Brascan Financial Corporation. Mr. Lyons is a director and officer of several public corporations including BC Pacific Capital Corporation, and Canaccord Capital Inc. Mr. Lyons also served as the Chairman of the Board of Westmin Resources Ltd. and was a director of the Battle Mountain Gold Company. An active member of the community, Mr. Lyons is a former Governor of the Olympic Foundation of Canada and a member of the Advisory Board of the Richard Ivey School of Business at the University of Western Ontario.


 
Maynard E. Brown, LLB
Position: Director


---


Maynard has been a member of the Law Society of British Columbia since 1973 and for the majority of his professional career, specialized in advising public companies on securities law and matters related to financial and stock exchange transactions. He has been a director of the Company since inception and serves on a number of internal committees.


 
Yale Simpson, B.A.Sc.
Position: Director


---


Former chairman of Argosy Minerals Inc. and a geological engineer, Yale has over 30 years experience as a senior geologist, exploration manager and CEO on projects in Australia, Africa and eastern Europe with Pennzoil, chevron, Black Swan and other major international companies.


 
Bill Zimmerman B.Sc., M.B.A.
Position: Director


---


As an independent director, Bill brings to Diamonds North over 30 years of business experience in natural resources, specializing in the development and implementation of successful marketing strategies of commodities including diamonds. He holds a Masters of Business Administration from the University of San Francisco and a B.Sc. in Mineral Economics from The Pennsylvania State University.

As the former President of BHP Diamonds Inc., Bill was responsible for developing new diamond opportunities and the sorting, valuation and sales of diamond produced from the Ekati Diamond Mine. Bill became involved in the Ekati Diamond Project in 1994 and led the team that developed and implemented the successful strategy for selling diamonds from Canada's first diamond mine to world markets.