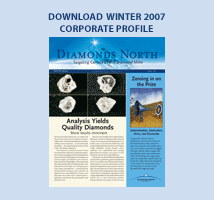 Mark Kolebaba
Position: President, Director & CEO


---


Mark started his diamond career in the early 90's exploring for diamonds in the Guaniamo district, Venezuela. From there Mark joined BHP & Dia Met Joint Venture, working under the likes of Rory Moore, Hugo Dummet & Charles Fipke at Ekati, where his experience ranged from early exploration to feasibility studies for the Panda & Koala pipes. During this time, 123 kimberlites were discovered, and more than 10 kimberlites were bulk sampled. In 1997, Mark initiated exploration outside of the BHP Ekati Project and become more involved in regional exploration in Canada and abroad managing diamond exploration activity in Eastern Canada and exploring for diamonds in China, Russia and Australia. More recently, Mark was part of the global search team charged with growing the diamond portfolio for BHPB world wide (started the Botswana Initiative). Mark joined Diamonds North Resources as President in April 2002.


 
Nancy L. Curry, B.A.
Position: VP, Corporate Communications


---


Nancy brings over 20 years of financial market, management and public company experience to Diamonds North. Nancy began her career working in the brokerage industry and has worked for several national investment dealers specializing in trading futures. In 1995, Nancy's public company experience began with Mountain Province Diamonds Inc., where she coordinated and implemented an extensive Corporate Communications and Investor Relations program for the company until 2000. Nancy continued this communications role with several resource and technology companies before becoming Manager of Corporate Communications for Diamonds North Resources in September 2002.


 
Graham Gill, B.Sc., P.Geo
Position: VP, Operations


---

Graham joined Diamonds North Resources in 2002 as Exploration Manager, with a focus on project logistics, implementation and community relations. Graham possesses more than 15 years of exploration experience with base and precious metal programs in western Canada, Nevada and Africa. Graham's experience ranges from field to senior project geologist with companies such as Cominco Ltd., Noranda Exploration Company Ltd., Hemlo Gold Mines Inc., and Battle Mountain Gold Limited. Since 1997, Graham has been employed by Commander Resources Ltd. where he was involved in gold, base metal and diamond projects.


 
Bruce Kienlen, B.Sc., P. Geol
Position: VP, Exploration


---

Bruce was added to the Diamonds North exploration team in April 2003, and will be involved in all technical aspects of Diamond North's projects. Prior to joining Diamonds North, Bruce spent 7 years at BHP Billiton Diamonds, where he gained exploration experience in Canada (including Nunavut and the Northwest Territories) and internationally including Sweden, the Middle East and Brazil. Bruce possesses a strong technical knowledge of indicator mineral chemistry, assessment of regional terrains and kimberlite target evaluation, especially in glacial environments. He also has experience designing and managing both small and large scale exploration projects.


 
Janice Davies
Position: Corporate Secretary, Officer


---


Janice, a member of the Commander Resources Ltd. management team since inception in 1990, is engaged in maintaining corporate compliance with regulatory bodies, legal filings and office systems development and administration. Janice has worked with public resource companies over the past twenty-five years and has a background in both the financial markets and legal sectors prior to working in the resource industry.


 
Michael Lee, CGA
Position: Chief Financial Officer


---


Michael is a CGA with 10 years experience in public and corporate accounting. Michael's experience includes serving as controller for the Manex Resource Group, which manages the affairs of six junior resource exploration companies: Bravo Venture Group Inc., Eaglecrest Exploration Ltd., Newcoast Silver Mines Ltd. Rio Fortuna Exploration Corp., Quaterra Resources Inc. and Western Copper Holdings Limited. Michael was responsible for all aspects of public and internal financial reporting. Michael joined Diamonds North in February 2003.