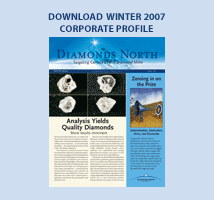 | | |
| --- | --- |
| Kimberlite Float | RC Drill rig operating in Amaruk |
| RC Drill Bit | |
| Kimberlite sample from RC drill Rig | |


Reverse circulation (RC) drilling has proven to be a cost-effective kimberlite discovery tool that verifies whether geophysical targets are kimberlite and if they contain diamonds. This is important given that there are more than 500 targets on the Amaruk Property. A certain amount of diamond loss is expected with this type of RC drilling. The down-hole hammer impacts the rock 1,400 times per minute and high pressure air pushes sample material upward at speeds approaching 110-kilometres per hour.