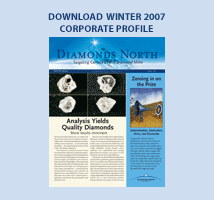 Ualliq Project
| | |
| --- | --- |
| Location: | Nunavut |
| Est. Size: | 1,100,000 Acres |
| Ownership: | 30% Option Agreement with International Samuel Exploration Corp. |
| Opportunity: | Discovery of a new diamondiferous kimberlite field within the Pelly Bay Diamond District |

The Ualliq property has the potential to host an entirely new and separate kimberlite field in Canada's newest diamond district. The property is adjacent to the Amaruk property where recent diamond results confirmed the significance of the region.

Initial airborne geophysics and indicator mineral sampling has resulted in the identification of numerous kimberlite targets.

In 2007 a geophysical survey was completed over most of the property and numerous high priority targets have been identified. The partners believe the Ualliq property has the potential to host multiple diamondiferous kimberlites and are planning to potentially drill up to 20-30 targets in 2008.