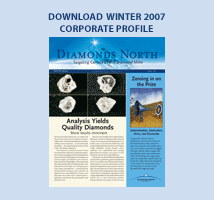 Sakari Project
| | |
| --- | --- |
| Location: | Nunavut |
| Est. Size: | 42,000 Acres |
| Ownership: | 50% option agreement with Shear Minerals Ltd. |
| Opportunity: | Discover new diamondiferous kimberlite in the proven kimberlite district |

The Sakari Property is located adjacent to the Darby project, where Teck Cominco Limited and Indicator Minerals Inc. discovered a new kimberlite field, including an 11-hectare pipe. For the 2007 budget Teck Cominco committed to an $8.5 million budget for the Darby project.

Only a small portion of the property has been surveyed, and targets are already starting to emerge.

In 2007 the partners completed an airborne geophysical survey to identify additional high-priority targets. Sakari is a strategic property; it positions both Diamonds North and Shear Minerals in a known diamondiferous kimberlite field.