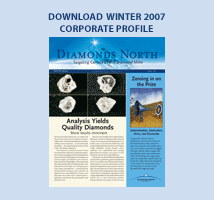 Kennap Project
| | |
| --- | --- |
| Location: | South Slave, Northwest Territories |
| Est. Size: | 164,000 Acres |
| Ownership: | 100% Diamonds North |
| Opportunity: | Discovery of new kimberlites near a diamond deposit |


During a routine review of public assessment data and the mineral claims database, Diamonds North identified several unresolved kimberlite indicator mineral occurrences on open ground near the Snap Lake deposit.

Diamonds North recognized that the ten-year anniversary of De Beers Canada Inc.'s Snap Lake claims may have forced De Beers to either drop the claims, or assume the high cost of taking them to lease due to staking regulations. Diamonds North assumed the claims were dropped for financial reasons, and therefore acquired the Kennap property.

Kennap is strategically located eight kilometres east of the De Beers Snap Lake deposit, which is estimated to contain a diamond resource of approximately US$3.8 billion, and 35 kilometres west of the Gahcho Kue deposit owned by De Beers and its joint venture partners. (A desktop study has estimated the Gahcho Kue deposit contains a diamond resource of over US$3 billion.)

Diamonds North conducted a detailed sampling program in 2005 to better resolve known indicator mineral occurrences, and to prioritize areas for airborne geophysical surveying. Most of the previous sampling data was collected using older, less effective geophysical methods; Diamonds North believes that employing advanced methods will offer an advantage during further exploration.