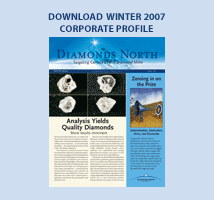 Location:
Nunavut
Est. Size:
2,000,000 Acres
Ownership:
100%
Opportunity:
Multiple kimberlite fields with the potential for hundreds of diamond bearing kimberlites


Amaruk, the Company's flagship property, offers investors Ekati- Diavik size potential. The Ekati and Diavik Diamond mines are Canada's largest and most profitable diamond mines. Abundant indicator mineral dispersions, with compelling mineral chemistry, serve to predict the presence of numerous kimberlite intrusions on the property with potential to contain economic diamond grades.

The central core block of Amaruk is defined by abundant indicator minerals and kimberlite float occurrences spanning an area of about 80 kilometres. The most striking characteristic of the area is the high proportion of Ekati-Diavik quality G10 garnets.

The first drill program in 2006 produced five kimberlites, all of which contained diamonds, indicating that an extensive diamond fertile mantle exists beneath the property. Two kimberlites, Qavvik and Char, were identified as highly diamondiferous. A 457 kilogram sample of Qavvik yielded 606 diamonds, putting Qavvik in the front line for a larger sample by drill core.

The sizes of the kimberlite at Amaruk are consistent with sizes at Ekati and Diavik. The geophysical signatures for the Qavvik and Umingmak kimberlite are estimated at about 4 and 3 hectares respectively.

The company has announced a total of 22 kimberlites on the property and there is approximately 500 identified targets that remain to untested in this diamondiferous field.

"A total of 17 new kimberlites discovered on a proven diamondiferous property --- I think our chances of discovering Canada's next large diamond mine have increased dramatically. Themicrodiamond results from these kimberlites could be the catalyst event for Diamonds North," says Mark Kolebaba, President and CEO.